Jana le médecin / the doctor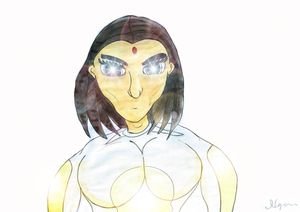 Jana est d'origine indienne. Elle exerce le métier de médecin. De nature calme et réfléchie, elle a la capacité d'évaluer les risques encourus par ses patients. Souvent sollicitée à l'extérieur pour des sauvetages à haut risque, elle a su dompter sa peur. Modèle de vertu, Jana s'est toujours montrée bienveillante. Un mal être la plonge dans une dépression inexplicable. Elle doit se battre contre ses propres démons.
Jana is an indian people. She ´ s working as a doctor. Calm and smart, she is able to evaluate the risks injured by her patients. She ´ s not afraid of the danger anymore. She has been through a lot of complicated situation in her life. She has always been a kindly person. She' s fighting with her own demons because she ´ s got an unexplainable nervous breakdown that makes her getting more and more depressed.