08
May
L'escadron de la Mort I / The deathsquad I
Le technodéfenseur se précipite à la croisée des chemins. Une fumée dense et compacte empêche la progression du technodéfenseur dans son parcours. Sa vision est de plus en plus atténuée...
Deux clans s'affrontent dans une rare violence.
L'esprit de Plum est piégée à la frontière entre réalité et imagination. Comme si une faille causée par un séisme mortel creuse dans le sol un gigantesque fossé. Elle a l'impression de s'engouffrer dans la brêche. Au milieu, Plum, seule , voit sa vie défilée devant elle. Les minutes, les secondes sont comptées. Une lutte psychologique qu'elle mène intériorement va l'aider à se sortir de l'emprise de l'éminence puissance. Le ruissellement de l'eau qui coule dans le fossé a une effet déclencheur sur l'esprit de Plum qui la fait remonter petit à petit à la surface. L'opacité de ses yeux noirs disparaît progressivement. Consciente, elle semble respirer à nouveau.
The technodefenseur is on his way to find out the truth about Plum's spell. He cannot even walk through the road because of the dense and compact smoke. His vision is more and more blurred...
Two clans are fighting violently with each others.
Plum's mind is trapped on a frontier between reality and imagination. As a small gap caused by a mortal seism will become a gigantic chasm. She has the sensation to step into the breach. Alone, Plum is seeing her life passing through. Every minutes, every seconds are important. A inner psychological flight will help her to stop the lion mind's control. The run off water into the gap has a triggering factor on Plum's mind that makes her come back to reality. The obstruction of her black eyes is vanishing progressively. Conscious, she seems to breath again.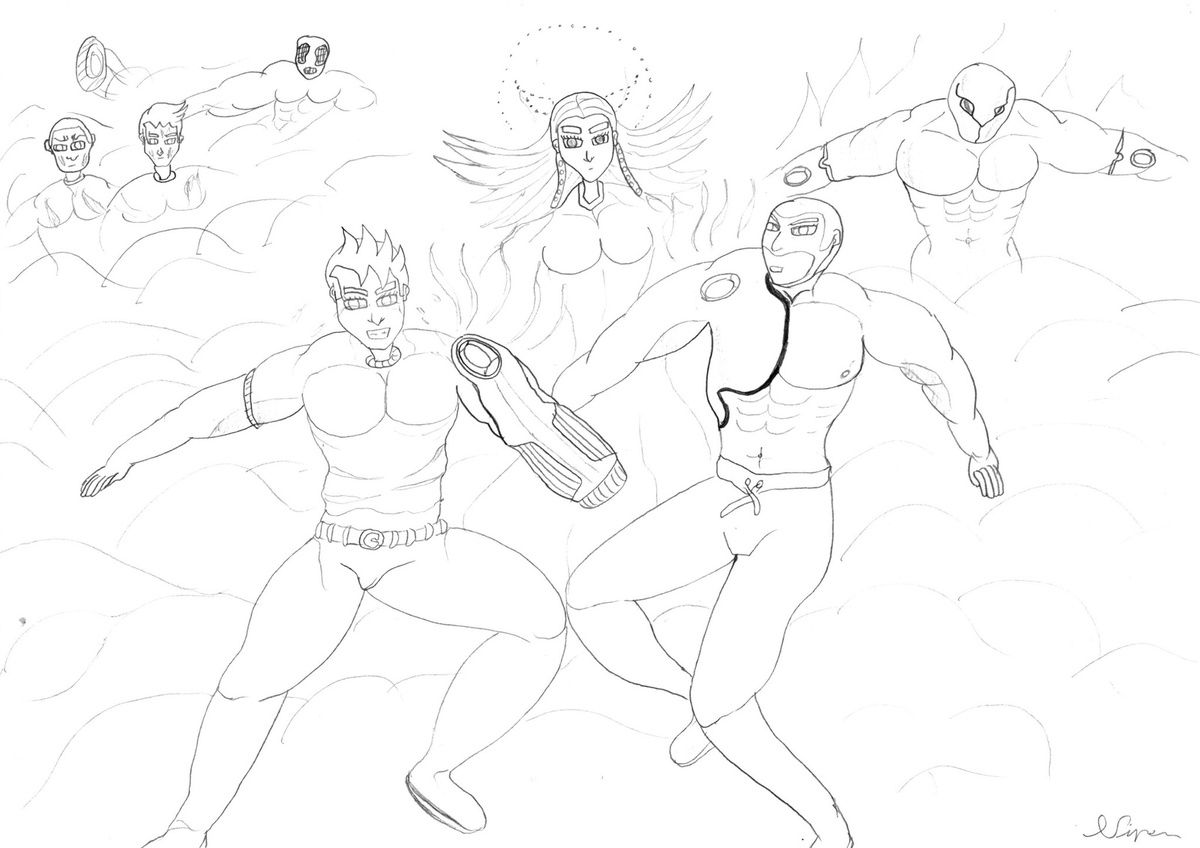 Les textes et les images ne sont pas libres de droits. Merci de me contacter avant utilisation. The texts and images are not free of rights. Please contact me before using it.
Métal et Ylo, unis dans l'adversité, se défendent du mieux qu'ils peuvent contre les attaques de l'éminence puissance. Ils peuvent difficilement rivaliser contre la force du lion. L'énergie des pierres de pouvoir d'Ylo et de Métal est absorbée. L'énergie consumée des pierres de pouvoir entraîne des trainées de vapeur. Piégés dans un tourbillon de force, Métal et Ylo s'efforcent de résister.
Métal : J'ai l'impression que ma pierre de pouvoir est entrain de se désactiver. Je n'ai pratiquement plus d'énergie.
Ylo : Les rafales de vents sont de plus en plus fortes.
Métal : Je ne vois pas Ruben et Mota. Attention, accroches toi !
Une onde de choc dévastatrice se propage à une vitesse incroyable détruisant tout sur son passage. La déflagration a été trop forte. Métal et Ylo, allongés sur le sol, restent inconscients. Parmi les nombreux débris, l'éminence puissance sonde le sol à la recherche de Métal et Ylo comme une tête chercheuse. Les yeux du lion apparaissent et disparaissent dans la brume.
En s'apercevant que sa pierre de pouvoir incrustée est désactivé, Plum s'empresse d'enlever son bracelet. Elle essaye de se frayer un chemin dans ce nuage de poussières. Aggroupie, elle avance lentement. Elle trébuche sur les corps inanimés de Métal et Ylo. Distinguant une ombre qui la suit, elle lance de toutes ses forces le bracelet du lion au lion pour faire diversion. Effrayée, elle retient son souffle.
Metal and Ylo are fighting back the best that they could against the attacks of the eminence puissance. They can hardly compete with the force of the lion. The energy of the powerstones of Ylo and Metal are absorpted. The consumed energy of the powerstones is causing steam leaks.
Trapped inside a whirlwind of energy, Metal and Ylo are resisting strongly.
Metal : I have the impression that my powerstone is getting deactivated. I have almost lost all my energy.
Ylo : The windstorm is getting stronger and stronger.
Metal : I don't see Ruben and Mota. Be careful, Hang on to me!
A devastating shock wave is spreading rapidly around by destroying everything in the way. The collission was too strong. Metal and Ylo, are lying on the floor, still unconscious. Among the wreckage, the eminence puissance is looking for Metal and Ylo as a target-tracking sensor. The eyes of the lion are appearing and disappearing in the smoky cloud.
The powerstones is getting deactivated, Plum is taking off her bracelet quickly. She's trying to find a way through the dust mist. On bended knees, she's moving slowly. She 's hitting the body of Metal and Ylo. A shadow is following her, she's throwing the bracelet far away in order to make a divertion. Scared, she's holding back her breath.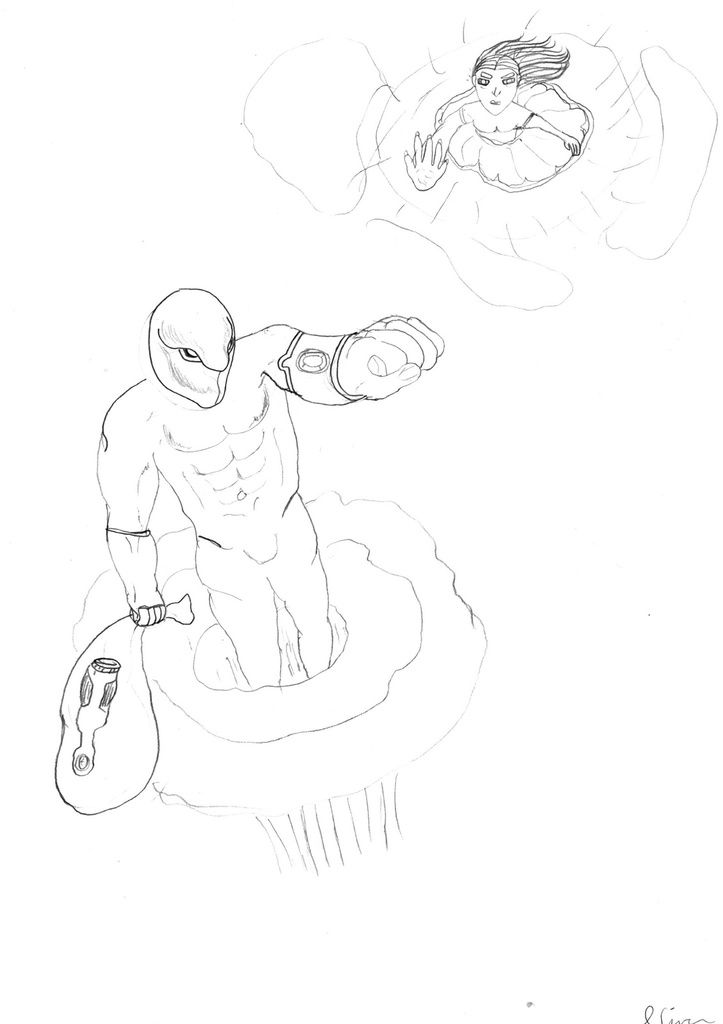 Les textes et les images ne sont pas libres de droits. Merci de me contacter avant utilisation. The texts and images are not free of rights. Please contact me before using .
En resentant une présence maléfique approchait, Plum essaye de réveiller Métal et Ylo.
Plum, en les giflant : Tu vas te réveiller, Bon sang !
Épuisée mentalement et physiquement, Plum craque nerveusement. Des larmes ruissellent le long de son visage angélique. Derrière elle, le mal incarné enfile lentement son bracelet de pouvoir comme si il s'agissait d'une démonstration de sa force.
Le lion : La technoarme d'Ylo m'appartient dorénavant. Le règne du feu n'est pas prêt de s'arrêter. L'embrassement a commencé. Je sens sa présence ... Il arrive ...
By feeling a malefic presence coming by, Plum is trying to wake up Metal and Ylo.
Plum, slapping their faces : Wake up! Damn it!
Mentally and physically exhausted, Plum has a nervous breakdown. The tears are running off her angelic face. Behind her, the devil is wearing his bracelet of power slowly like showing his powerfulness.
The lion : The technoweapon of Ylo belongs to me. The reign of fire cannot be stopped now. The flashover is starting. I'm feeling his presence... He's coming...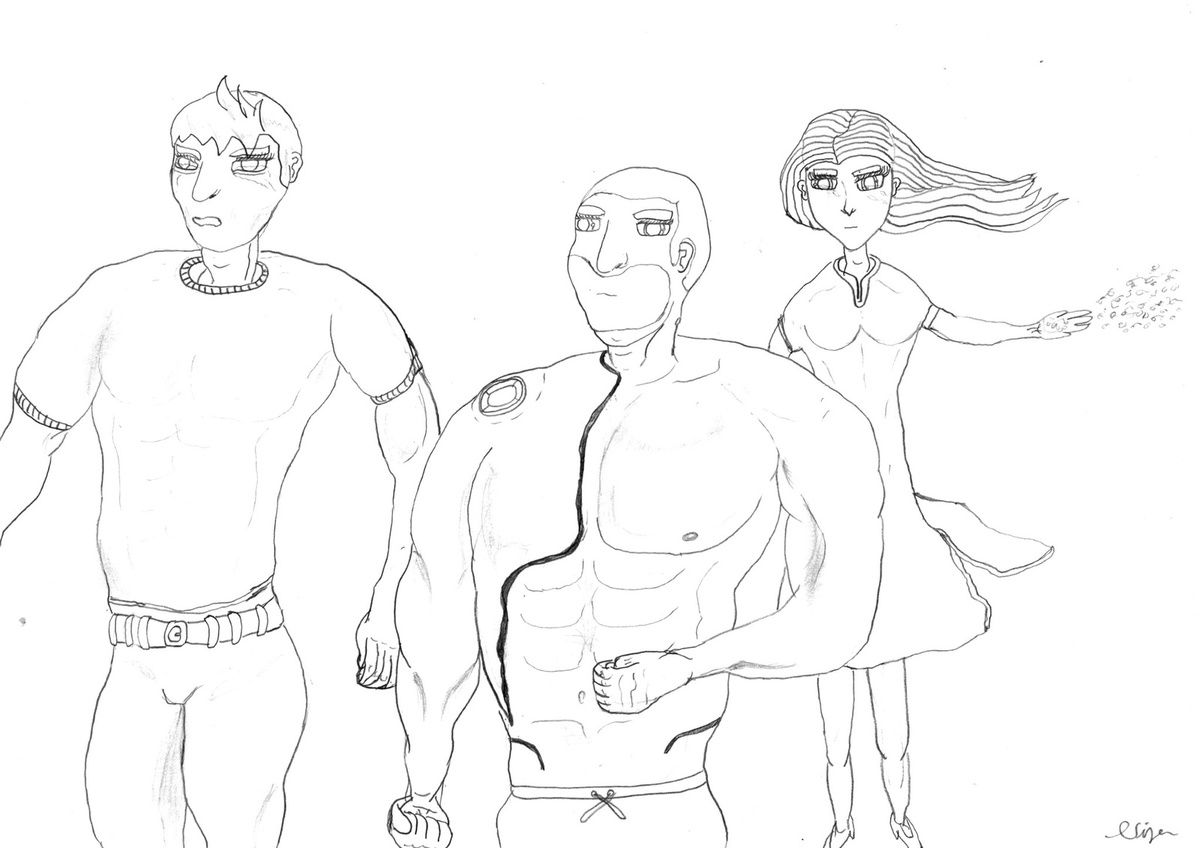 Les textes et les images ne sont pas libres de droits. Merci de me contacter en cas d'utilisation. The texts and the images are not free of rights. Please contact me before using it.