09
May
L'escadron de la Mort II / The deathsquad II
Le réveil est brutal pour les survivants de l'accident. Ruben et Mota ont évité de justesse l'impact de l'autotech au sol. À nouveau sur pied, ils reprennent petit à petit leur esprit. Soudainement, le bruit causé par l'épée de l'assassin sur la carcasse de l'autotech résonne dans les oreilles de Ruben et Mota. L'angoisse d'affronter l'assassin les fait paniquer. L'atmosphère devient de plus en plus sombre et pesante. La brume épaisse rend la visibilité très difficile. Ruben cherche du regard l'arme ancestral au sol.
Mota : Dépéches toi! Qu'est ce que tu cherches?
Ruben : L'épée! Avec toute cette fumée, je ne vois absolument rien. L'importance est de récupérer la pierre de pouvoir.
L'assassin est entrain de découper, trancher, sectionner l'autotech en mille morceaux. Subitement, une onde de choc provoque une forte détonation. Elle se propage à vive allure vers leur direction. L'assassin est agité. Il est également à la recherche de l'arme ancestral.
L'assassin, en hurlant : Où est la pierre de pouvoir ?
The awakening is rough for the survivors of the car crash. Ruben and Mota have avoided the impact of the autotech into the ground. Back to their feet, they are regaining consciousness. Suddenly, the sound caused by the assassin's sword on the car wreck is echoing in the ears of Ruben and Mota. The fear to face the assassin again makes them panicking. The atmosphere is getting denser and denser. The mist is making the visibility uncleared. Ruben is searching the ancestral weapon on the ground.
Mota : Hurry up ! What are you looking for ?
Ruben : The sword ! Full of smoke, I cannot see anything. The important thing is to get back the powerstone.
The assassin is cutting, slicing the autotech into thousand pieces. Suddenly, a shock wave is provocking a loudy sound. The shock wave is spreading at high speed into his direction. The assassin is pertubed, he's also looking for the ancestral weapon.
The assassin is screaming : Where is the powerstone ?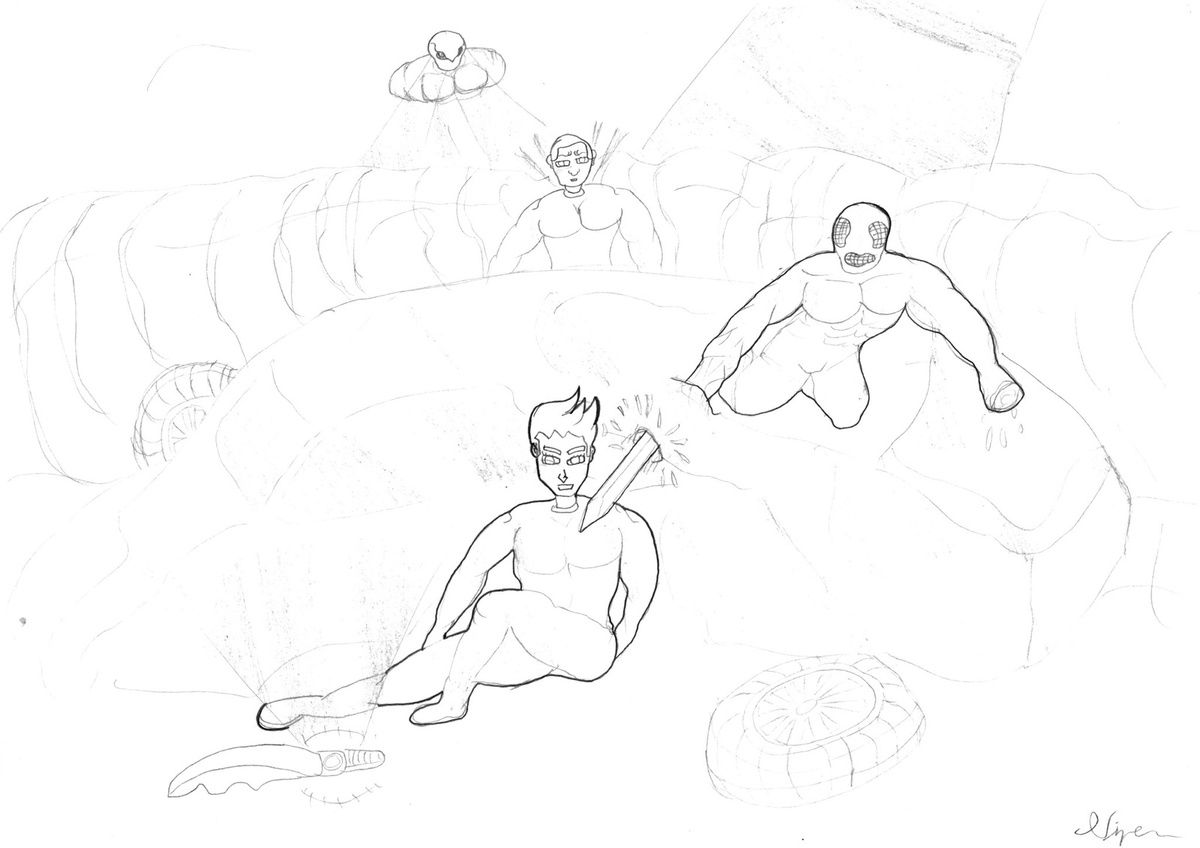 Les textes et les images ne sont pas libres de droits. Merci de me contacter en cas d'utilisation. The texts and images are not free of rights. Please contact me before using.
La fumée épaisse se disperse peu à peu en laissant apparaître l'arme ancestral. L'ombre fait place à la lumière. Soudainement, la pierre de pouvoir de l'arme ancestral scintille. Synonyme d'espoir, Ruben a la sensation d'être envahi par une force incroyable. Comme une pression sur son plexus solaire, il sent l'énergie de la lumière.
Un oeil rivé sur l'assassin et l'autre sur Ruben, le technodéfenseur est le seul à pouvoir faire changer le cours de l'histoire. À ce moment prècis où l'énergie de la lumière commence à jaillir de la pierre de pouvoir, Ruben est sur le point d'attrapper l'épée. Tout à coup, l'onde de choc annihile l'énergie de la pierre de pouvoir. Voyant tous ses espoirs s'écroulaient devant lui, Ruben est prêt à embrasser son destin. Mota se protège le visage du souffle causé par l'onde de choc. Ruben, larmes à l'oeil, sans arme, voit l'énergie de la pierre de pouvoir se volatiliser comme une trainée de vapeur.
Ruben, désespéré : Non !!!
Mota : Ruben !
L'assassin fonce sur Ruben, prêt à lui infliger un dernier coup mortel. Tel un sauveur, le technodéfenseur apparaît devant Ruben. Il charge au maximun sa technoarme. Il tire.
L'assassin est atteint griévement. Il tombe à terre.
The heavy smoke is disappearing progressively by showing the ancestral weapon. The shadow is replaced by the light. Suddenly, the powerstone of the ancestral weapon is sparkling. Synonym of hope, Ruben has the sensation to be taken by an amazing force.
As a pressure on his celiac plexus, he's feeling the energy of the light.
An eye on the assassin and an eye on Ruben, the technodefenseur is the only one who can change the fate of the story. At this moment where the energy of the light is coming through the powerstone, Ruben is on his way to grab the sword. Suddenly, the energy of the powerstone has been annihilated by the shock wave. All the hopes are fading away in front of him, Ruben is ready to face his fate. Mota is protecting his face against the wind of the shockwave. Ruben, full of tears, without weapon, is seeing the energy consumed, looks like steams floating in the air.
Ruben, hopeless : No!!!
Mota : Ruben !
The assassin is running towards Ruben, ready to give him a last mortal hit. As a savior, the technodefenseur is appearing in front of Ruben. The maximun load for the technoweapon has been reached. He's shooting.
The assassin is badly hurt. He's falling into the ground.