10
May
L'escadron de la Mort III / The deathsquad III
La tâche de sang est présente sur le sol. Suite à la perquisition des forces de l'ordre du comité au laboratore, Jana est interrogée. Elle a été le témoin oculaire des événements survenus récemment à Technoville.
Agent force de l'ordre : Vous avez été impliqué dans un attentat. Nous recherchons l'intrus qui s'est introduit sans permission à l'intérieur de Technoville. Lors du dernier sauvetage précédant l'attentat, nous avons secouru plusieurs individus. Certains d'entre eux doivent se présenter devant le comité dès que possible. Certains d'entre eux sont dangereux. La sureté de Technoville est un enjeu primordial pour la survie de tous les citoyens. Tout d'abord, reconnaissez-vous l'un des individus suivants?
L'agent des forces de l'ordre montre à Jana les portraits robots de Métal, Ylo, Ruben et Plum. Concentrée, elle examine les images. Surprise, Jana découvre le vrai visage d'Ylo. La régénération d'Ylo est un vrai mystère. Prise par un violent mal de tête, elle se met à convulser subitement. N'ayant même pas eu le temps de répondre aux questions de l'agent, Jana tombe dans un coma profond. Sur le sol, le corps de Jana est tremblant. Ses yeux sont grands ouverts. Son regard vitreux fixe la tâche de sang d'Ylo. Choqué, l'agent se rapproche d'elle. Subitement, il reçoit un signal provenant de sa balise de contrôle. De dos à Jana, il examine l'oscillation des fréquences d'énergie provenant de l'épicentre.
Agent force de l'ordre : On a localisé la source d'énergie !!! L'oscillation est de plus en plus forte. il faut utiliser la bombe annihilateur tout de suite !!!
The drop of blood is on the floor. Jana has been remanded in custody for an examination. The Strike force's agent would interrogate her. Being an eye witness of the events happened during the attack, she must testify in front of the Strike force's agent.
Strike force's agent : You have been a victim of an attack, we are tracking down the trepasser who has deliberately entered inside Technoville. During the last rescue operation, many individuals have been saved. Some of them have to be brought to the comitee as soon as possible. Some of them are very dangerous people.The safety of Technoville is a main issue for the survival of all the citizens. First of all, did you recognize one of these following individuals?
The strike force's agent is showing the facial composite of Metal, Ylo, Ruben and Plum. Taken by surprise, she's discovering the real face of Ylo. The regeneration of Ylo is a mystery. All of a sudden, she has a violent headache that makes her collapse. In the floor, the body of Jana is shaking. Without telling him anything, Jana is slipping into a deep coma. Her wide-opened eyes is glaring the drop of blood in the floor. Shocked, the agent is coming closer to her.
Suddenly, he's receiving a signal coming from the control beacon. Back to Jana, he's examining the oscillation of the energy frequency from the epicenter.
Agent strike force : The source of energy has been located !!! The oscillation is stronger and stronger. We need to use the "annihilator" bomb right now !!!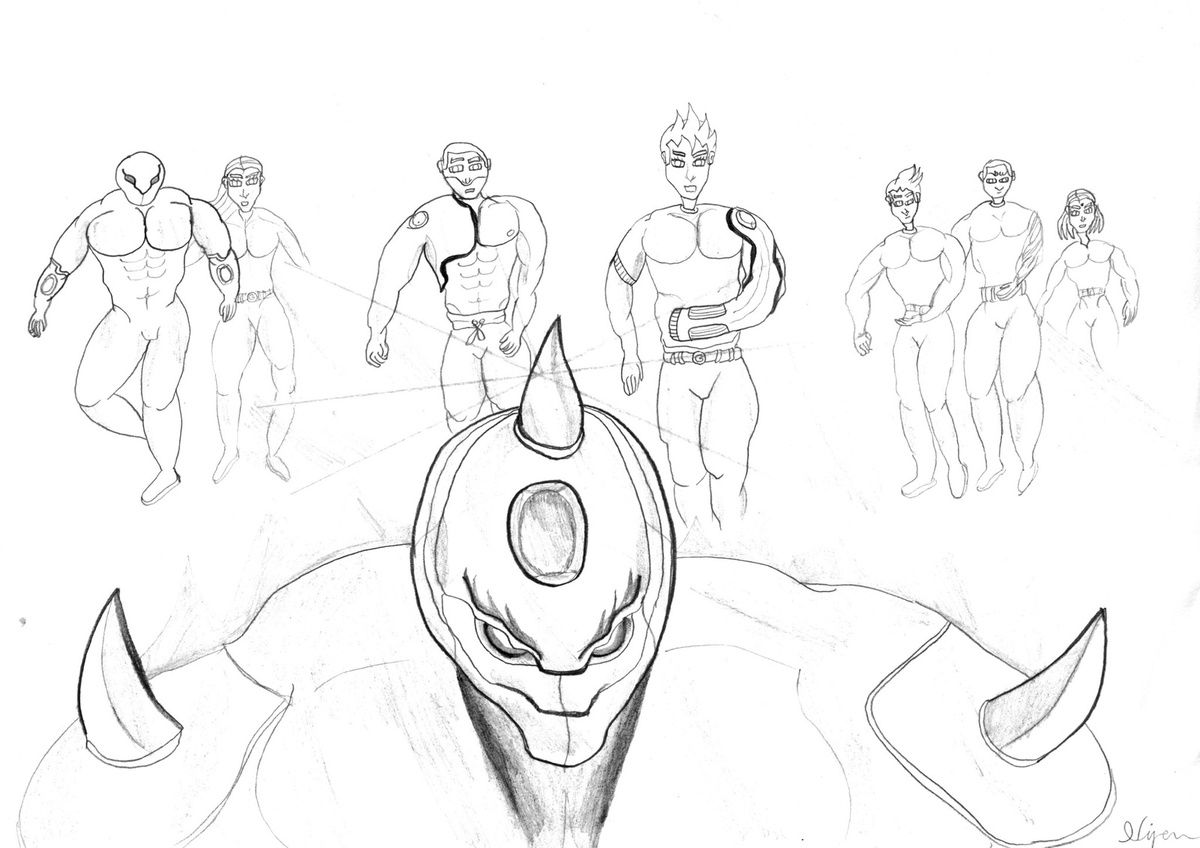 Les textes et les images ne sont pas libres de droits. Merci de me contacter en cas d'utilisation. The texts and images are not free of rights. Please contact me before using it.
Quelque part aux abords de Technoville, une mystérieuse ombre gigantesque éclipse l'astre lumineux qui éclaire la cité technologique. Plongé dans l'obscurité la plus totale, Technoville est entrain de s'embrasser à cause des effets de la bombe "annihilateur". On assiste à une scène de chaos. La ville est assiégée par l'éminence puissance. Les rugissements du lion ont averti l'un des plus grands destructeurs du monde de Karma. Sur le champs de bataille, le technodéfenseur rassemble tous les rescapés. L' explosion de la bombe annihilateur a été perceptible à des kilomètres aux alentours de l'épicentre. Le technodéfenseur, Mota, Ruben et Plum discutent.
Technodefenseur : Nous venons d'avoir recours à la bombe "annihilateur" sur Technoville.
Plum : S'agirait-il de l'ultime arme secrète développée par le comité? La bombe "annihilateur" est une arme de dissuassion contre des destructeurs.
Ruben : Incroyable, l'energie des pierres de pouvoir a complètement été annihilé.
Mota : J'ai entendu parler de cette arme. Il semblerait qu'ils utilisent l'énergie de la lumière.
Somewhere along the border of Technoville, a strange gigantic shadow is eclipsing the bright celestial body that illuminates the technological city. Technoville has plunged into the darkness. Technoville is set ablaze because of the effects of the "annihilator" bomb. The city is plunged into chaos, settled down by the eminence puissance. The roarings of the lion are warning the most dangerous destroyer in the world of Karma.In the battlefield, the technodefenseur is gathering all the survivors. The explosion of the annihilator bomb has been seen from kilometers around the epicenter. The technodefenseur, Mota, Ruben and Plum are discussing.
Technodefenseur : The "annihilator bomb" has explosed on Technoville.
Plum : Is it the ultimate secret weapon developped by the comitee ? The "annihilator " bomb is a deterrent weapon against the destroyers.
Ruben : It's incredible! The energy of the powerstones has been completely annihilated.
Mota : I heard about this weapon. It seems that they are using the energy of the light.