16
May
La bombe annihilateur / The annihilator bomb
Précédemment, les survivants sont sur le point de découvrir la vérité sur la bombe annihilateur. Sauver Plum et Ruben de l'emprise de l'éminence puissance a été un succès. Les deux nouveaux potentiels sont sains et saufs mais jusqu'à quand. Le technodéfenseur, garant de la sécurité des potentiels, veille à leur protection. Les effets de la bombe annihilateur sur la ville sont catastrophiques. Grâce à son casque à émetteur téléphonique, il s'informe auprès du comité.
Technodefenseur : Comité, j'ai en face de moi les deux "potentiels".
Comité : Nous devons absolument les protèger et les surveiller. Dans le passé, de nombreux potentiels sont morts au combat. Nous sommes entrain de développer un prototype robot de surveillance. L'initiation va bientôt commencer.
Technodefenseur : La bombe annihilateur a désactivé l'énergie de toutes les pierres de pouvoir.
Comité : Par précaution, il faut absolument les mettre en détention en attendant que le calme revienne. C'est l'occassion d'en savoir plus sur l'utilisation des pierres de pouvoir et les nouvelles technologies de Métal. La source d'énergie de la lumière s'épuise. Nous devrions contacter le gardien de l'observatoire avant qu'il ne soit trop tard. Tout doit rester confidentiel. Cette affaire est classée top secret.
Les deux révélations de la lumière sont réunies là, devant le technodéfenseur. Plum et Ruben sauront-ils à leur tour sauvegarder l'énergie de la lumière? Serait-il le commencement d'une nouvelle ère ?
Previously, the survivors will soon find out the truth about the annihilator bomb. Plum and Ruben have been rescued succesfully from the eminence puissance's mind control. The two potentials are safe now, for how long ? The technodéfenseur, must keep the potentiels out of danger, is the forcekeeping guard. The effects of the annihilator bomb on the city are devastating. Using his calling receiver helmet, he's receiving the news from the comitee.
Technoville : Comitee, the two potentials are in front of me.
Comitee : We have the obligation to protect them and to keep an eye on them. We are developping a safe guard robot prototype. The initiation will soon start.
Technodefenseur : The annihilator bomb is deactivating the energy of all the powerstones.
Comitee : By safety, they must be remanded in custody until everything is back to normal. In the past, a lot of potentials have died in the fight. It's the right moment to find the truth about the energy of the powerstones and the new technologies used by Metal. The energy source might has been wasted. We must contact the guardian of the observatory before it's too late. Everything remains confidential. This case is classified top secret.
The two revelations of the light are reunited here, in front of the technodefenseur. Can Plum and Ruben pretend to save the energy of the light? Will it be the beginning of a new era?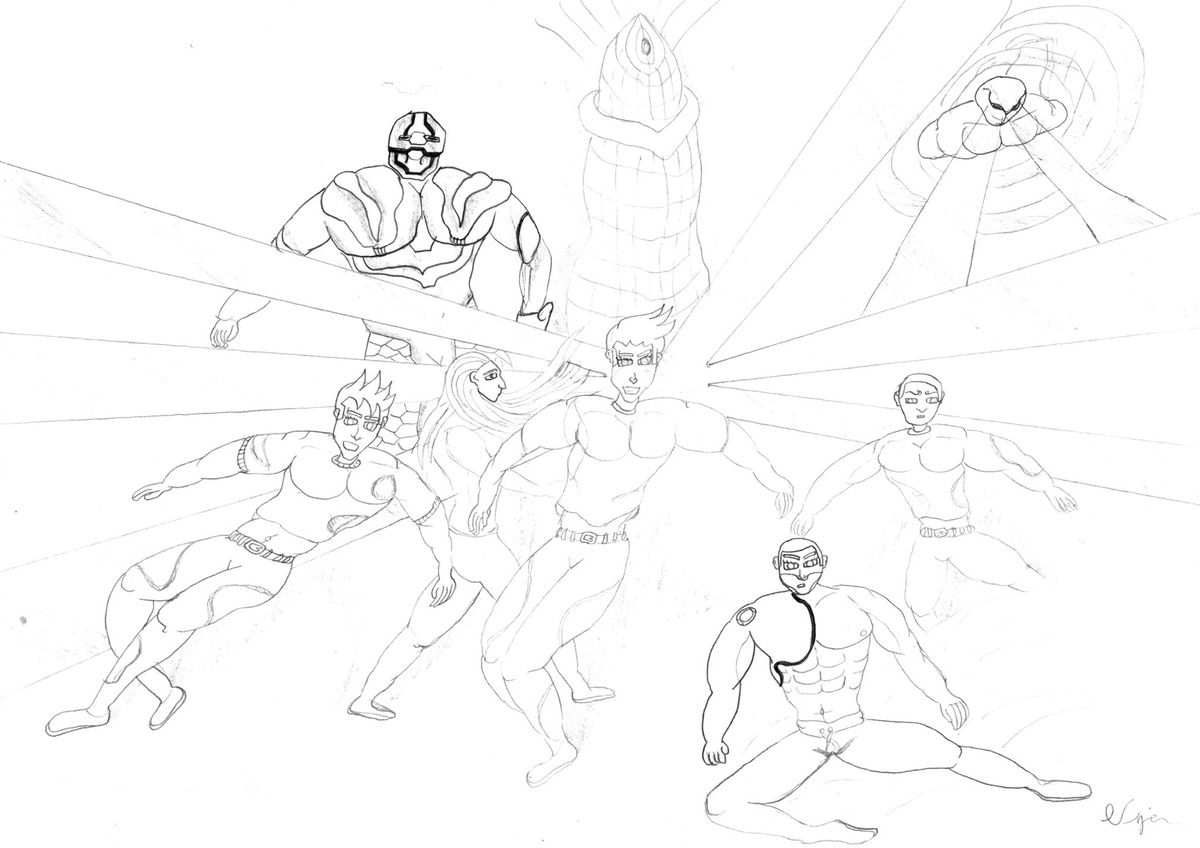 Les textes et les images ne sont pas libres de droits. Merci de me contacter avant utilisation. The texts and images are not free of rights. Please contact me before using it.
La présence terrifiante de l'éminence puissance est un signe. La révélation de deux individus par la lumière a réveillé la curiousité de tous les démons et les créatures du monde de Karma. Pour leur sécurité, le technodéfenseur les garde en détention. Dans la prison de Technoville, Métal, Ylo, Ruben, Mota et Plum sont sous haute surveillance. Les renseignements s'intéressent de près à ses différents individus. Chacun d'entre eux font partie d'un même puzzle à reconstituer.
Technodéfenseur : les individus suivants Métal, Ylo, Ruben, Mota et Plum sont prêts à être interrogé.
L'agent des forces de l'ordre : Nous devons comprendre les circonstances de l'attaque du musée. Je dois les interroger un par un.
Ruben se dirige vers la salle d'interrogatoire. L'agent force de l'ordre l'attend. Le bruit des pas de Ruben reproduit dans son esprit le son assourdissant de l'impact de la bombe annihilateur sur Technoville. La lumière éclaire son joli visage. Le vert de ses yeux est un synonyme d'espérance.
AFO : Bonjour Ruben
Ruben : Bonjour monsieur l'agent
AFO : Vous étiez présent à la cérénomie d'ouverture du musée. Lors de cette événement, vous avez été en contact de Plum. Votre mission consistait à identifier Plum. Pouvez vous me raconter précisément le déroulement des événements ?
Ruben, hésistant : J'étais ... au musée. Oui donc, je me rappelles. j'avais un trou de mémoire. Vous voulez que je raconte toute l'histoire avec pleins de détails. Je me suis mis sur mon 31. J'ai mis du parfum, je ne me rappelle plus de quelle marque.
AFO, agacé: Vous cachez quelque chose, Ruben ! Vous me donnez pas assez d'informations. Une arme ancestrale a disparu durant cette soirée. Il est primordial qu'on retrouve cette arme au plus vite.
Ruben : Je ne l'ai pas en ma possession.
The terrifying presence of the eminence puissance is a sign. The revelation of two individuals by the light has aroused the curiousty of all the demons and vilains of the world of Karma. For their safety, They are remanded in custody. In the detention centre, Metal, Ylo, Ruben, Mota and Plum are under close surveillance. The intelligence is interesting on these following individuals. Each one of them is a piece of the puzzle to solve.
Technodefenseur : The following individuals Metal, Ylo, Ruben, Mota and Plum are ready to be questionned about.
Strike force agent : We must understand the circumstances of the museum's attack. I must question them one by one.
Ruben is going towards the counter examine room. The strike force's agent is waiting. The sound of the step of Ruben is remaking the loudy noise of the impact of the annihilator bomb dropping on Technoville. The light is enlightening his face. His green eyes is a sign of hope.
Strike force's agent : Sir Ruben
Ruben : Sir mister agent
Strike force's agent : You were present at the museum opening show. During this event, you have been in touch with Plum. Your mission was to identify Plum. Can you describe precisely what happened?
Ruben, hesitating : I was ... At the museum. So, now I'm remenbering it. I had a memory loss. You want the whole story with plenty of details. I was well dressed. Putting some perfume on me, but I don't remenber the brand.
Strike force's agent, annoyed : you are hidden something from us. Ruben! You are spoon feeding me with few informations. For the last time, an ancestral weapon has been missing during the evening. The ancestral weapon has been found rapidly. Otherwise, we are facing huge problems.
Ruben : I told you I don't have it.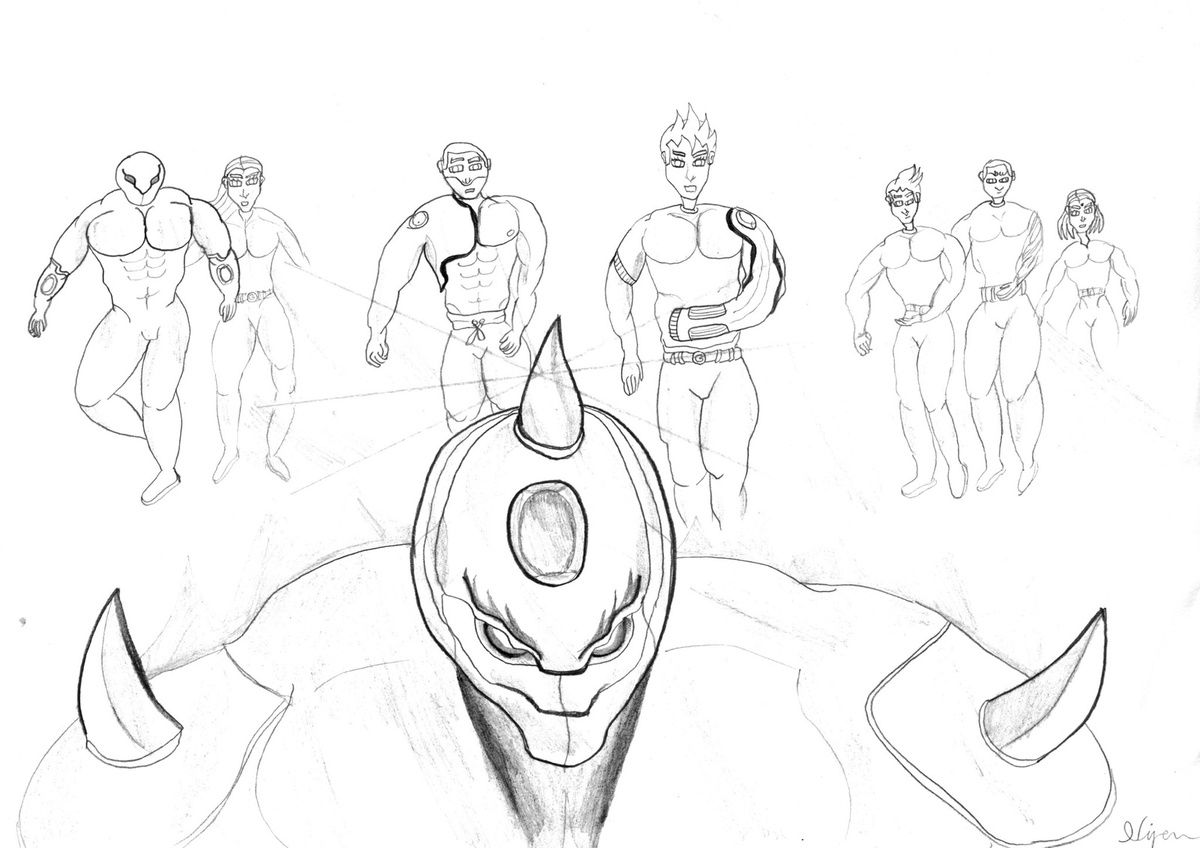 Les textes et les images ne sont pas libres de droits. Merci de me contacter avant utilisation. The texts and images are not free of rights. Please contact me before using it.
Le refroidissement soudain de la salle par le fait d'un vent glacial est un signe de mauvais présage pour Ruben. Comme pris de douleur, l'agent des forces de l'ordre souffre affreusement. Les mots sont prononcés péniblement. Il sue à grosses gouttes jusqu'au moment où ses yeux commencent à devenir noir. Le contraste entre la froideur de la salle et la chaleur dégagée par son corps témoigne d'une situation paranormal.
AFO, une voix venue d'ailleurs dit : Le soulèvement de la colère des ancestraux va gronder prochainement. L'individu qui aura fait briller la pierre devra accomplir sa destinée. La furie sera outrageusement violente si l'élu m'embraserait pas son destin. Quelqu'un que vous connaissez vous cherche ... Au delà ... des ossements sont collectés.
Ruben, effrayé, voix tremblante : Je vous répète. L'arme n'est pas en ma possession.
Des bruits inhabituels provenant de la salle d'interrogatoire interpelle le technodéfenseur. L'AFO n'était plus lui-même comme possédé par un esprit maléfique pendant quelques secondes. C'est assez suffissant pour effrayer Ruben. Ses phrases sont gravées éternellement dans sa mémoire.
Suddenly, the room is getting colder because of the frozen wind. It's a sign of bad omen for Ruben. The strike force' s agent is suffering painfully. He's struggling to pronounce a word. He's sweating profusely until the moment his eyes starts to become black. The contrast between the coldness of the room and the hotness of his body is a witness of a paranormal activity.
Strike force's agent, odd voice coming from : The anger of the "ancestraux" will speak out loud soon. The one who has made the stone shine through will face his fate. The fury will be outrageously violent if the chosen one won't accomplish his destiny. Someone is after you ... From somwhere ... The bones are collected...
Ruben, scared, shaking voice : I repeat. I don't have the weapon.
Some unsual noises, coming from the counter examine room, are worrying the technodefenseur. The Strike force's agent has been mind controlled by a malefic spirit for few seconds. It's enough time to frighten Ruben. These sentences have been etched in Ruben's mind forever.