21
May
La dévastation I / The devastation I

Le technodéfenseur a atteint le sommet de la plus haute tour de Technoville. Le système de contrôle du bouclier de protection a été gravement endommagé. L'énergie de la lumière n'alimente plus les circuits de transmission du système de contrôle. Le technodéfenseur est victime d'une baisse d'énergie. Son armure robotisé connaît des sévères complications. La lenteur de ses mouvements indique une forte anomalie. Comme un signal de prévention, son armure de protection donne l'alerte. Sur place, une équipe de secours le prend en charge rapidement. Ses batteries sont complétement à plat.
L'agent des forces de l'ordre se dirige vers la tour de Technoville. La capsule de mémoire de Jana doit absolument être remise au comité dès que possible. Ses preuves sont nécessaires pour l'interrogatoire des détenus. Il a du mal à se frayer un chemin dans la pénombre. Sa montre lui indique l'heure mais étrangement, il n ' y a pas de rayon de lumière à ce moment de la journée. L'obstruction de l'astre lumineux empêche le bon rayonnement de la lumière.
Au même moment, le centre de détention est assiégé par Rinoféroce. Métal, Ylo, Ruben, Plum et Mota écoutent attentivement la bête. La voix est puissante.
Rinoféroce : Que celui qui a fait briller la pierre de pouvoir se présente devant moi maintenant!
Les regards se croisent. Personne ne répond. Le silence est pesant. L'épée de Damoclès est au dessus de la tête de Métal, Ylo, Ruben, Plum et Mota.
The technodefenseur has reached the top of the highest tower of Technoville. The control system of the protective shield has been badly damaged. The control system transmission circuit is not powered anymore by the energy of the light. The power of the technodefenseur is decreasing dramatically. His robotised armour is deteriorated. His motionless movement indicates a strong dysfunctioning. As a preventive warning, his protective armour is on alert. On the building, the rescue team is taking care of him rapidly. His power batteries are completely off.
The agent of the strike force is going to the tower of Technoville. The comitee must take the memory capsule back as soon as possible. These proofs are the only way to keep them on custody. He doesn't find a path easily between all these heavy clouds. His watch indicates the hour but strangely, there's no ray of light at this moment of the day. Certainly, it's the consequences of the obstruction of the shining celestial body.
At the same time, the detention centre is settled down by Rinoferoce. Metal, Ylo, Ruben, Plum and Mota are listening carefully the beast. The voice is powerful and strong.
Rinoferoce : The one who has made the powerstone shine must step forward now!
The looks are exchanged . Nobody is answering. The silence is heavy . The Damocles sword is on top of the head of Metal, Ylo, Ruben, Plum and Mota.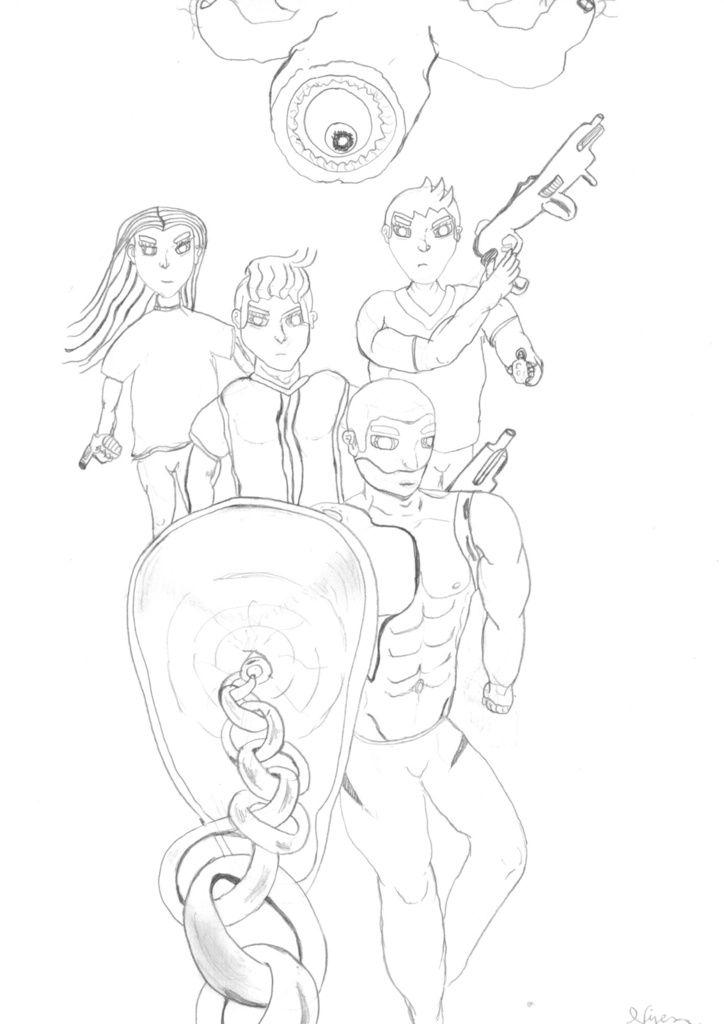 Les textes et les images ne sont pas libres de droits. Merci de contacter avant utiliation. the texts and images re not free of rights. Please contact me before using it.
À l'intérieur de la tour, le manque de lumière a des conséquences graves sur le fonctionnement correct de l'armure du Technodéfenseur. Par coïncidence, le technodéfenseur entend la discussion entre l'agent des forces de l'ordre et le comité. À l'écoute de l'entretien privé, le doute s'installe.
Agent des forces de l'ordre : Métal possède réellement de nouvelles technologies capable d'utiliser l'énergie des pierres de pouvoir. La preuve par l'image est là quand Métal arrive à faire illuminer la pierre de pouvoir.
Comité : Le secret sur le fonctionnemet des pierres de pouvoir est bien gardé par Métal. L'attaque du musée a été prémédité. La créature cherche toutes les armes ancestrales. La bombe annihilateur a eu des effets dramatiques sur Technoville. Néanmoins, on a réussi à neutraliser temporairement le lion.
Le technodéfenseur réalise progressivement les enjeux et l'importance de Métal. Quelles sont réellement les intentions du comité?
À des kilomètres de la tour, La tension est à paroxysme. Rinoféroce s'approche d'eux lentement. Le souffle nauséabond de la bête sur leur visage accentue leur angoisse. Ses yeux deviennent rouge vive. Les battements de coeur de Métal, Ylo, Ruben , Plum et Mota sont de plus en plus forts. Parmi eux, quel individu a été révélé par la lumière ? La réponse va changer le destin d'un des individus présents pour toujours.
Inside the tower, the lack of light has dramatical consequences on the right functioning of the armour of the Technodefenseur. Coincidentally, the technodefenseur is hearing the discussion between the agent of the strike force and the comitee. By listening their private conversation, the doubt remains strong.
Agent of the strike force: Metal really possesses the new technologies that is capable of using the energy of the powerstones. The proof by image is here when Metal is using the energy of the powerstone.
Comitee : The secret of the activation of the powerstones has been well kept by Metal. The attack on the musem is not hazardous. The creature is looking the ancestral weapons. The annihilator bomb has a dramatic effect on technoville. Nevertheless, the lion has been neutralized succesfully temporary.
The technodefenseur is realizing progressively the goals and the importance of Metal. What are the real intentions of the comitee?
Far away from the skyscraper, the tension is reaching its height. Rinoferoce is coming closer to them slowly. The beast's stinky breaths on their face are increasing their fears. His eyes are becoming bright red. The heatbeats of Metal, Ylo, Ruben, Plum and Mota are getting louder and louder. Which one of them has been revealed by the light ? The answer will change the fate of one of them forever.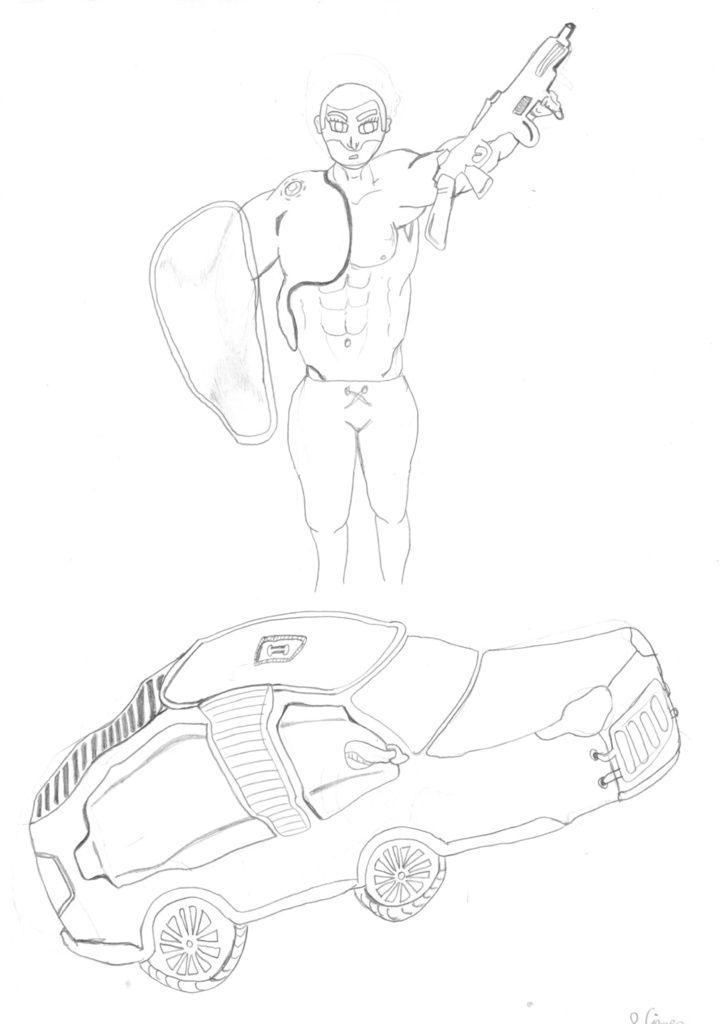 Les textes et les images ne sont pas libres de droits. Merci de me contacter avant utilisation. The texts and images are not free of rights. Please contact me before using it.