22
May
La dévastation II / The devastation II

Rinoféroce les renifle un par un. Surnommé autrefois le désosseur, il arrive à sentir la chair, les os, les squelettes de ses victimes. L'un d'entre eux est un potentiel. Il les dévisage. Le bras bionic de Métal l'intrigue. Il saisit la pierre de pouvoir de Métal et il la pulvérise en mille morceaux. La forte pression des griffes de Rinoféroce sur la protection bionic pectorale de Métal provoque un grincement horrible.
Rinoféroce : Est ce plus dur que mon armure ?
Métal fait un signe de la main en prévenant ses co-détenus de reculer d'un pas.
Après être totalement régénéré, le technodéfenseur est prêt à reprendre le combat. Avec ses jumelles à longue portée, il scanne l'horizon à la recherche du lion. Sa vision est limitée. Le centre de détention est dans sa ligne de mire. Le technodéfenseur lance des roquettes éclairantes pour illuminer le ciel. Les explosions provoquées par les roquettes retentissent fortement dans Technoville.
Dans le centre de détention, Métal se concentre en fermant les yeux. le bruit de l'explosion déclenche les hostilités. La pierre de pouvoir de Rinoféroce s'illumine brusquement. Métal se met en position de défense. Avec son bouclier de protection, il stoppe un coup de griffe du destructeur. Ylo, Ruben, Plum et Mota esquivent les coups violents de Rinoféroce.
Le technodéfenseur arrive, tout de même, à localiser les détenus grâce au traqueur caché sous la peau de Ruben. Avec son arme laser, il peut faire feu à tout instant.
Comité : Nous sommes en présence d'un nouveau destructeur.
Technodéfenseur : Je l'ai en ligne de mire. Il doit faire environ plus de 2 mètres.
Comité : Ils ne vont pas s'en sortir vivants.
Technodéfenseur : 1... 2... 3...
Rinoferoce is sniffing them one by one. Surnamed a long time ago the (desosseur) bone collector, he can smell the flesh, the bones and the squelettor of his preys. One of them is a potential. He's staring at them. Metal's bionic arm is interesting him. He's taking the powerstone from Metal and he's destroying it. The strong pression of Rinoferoce's claws on Metal's pectorale bionic protection is making a horrible grinding noise.
Rinoferoce : Is it stronger than my armour?
Metal is waving his hand by warning the others to step back.
After a full body regeneration, the technodefenseur is ready to fight back. With his long distance binoculars, he's scanning the horizon in order to find the lion. His sight is restricted. He's targeting the detention centre. The technodefenseur is launching lighting rockets on illuminating the sky. The explosions caused by the rockets have a big sound effect on Technoville.
In the centre of detention, Metal is focusing deeply by closing his eyes. The hostility has started at the moment they are hearing the sound of the blast. The powerstone of Rinoferoce is shining brightly abruptly. Metal is ready, on a defensive fighting position. With his protective shield, he stops Rinoferoce's claw hit. Ylo, Ruben, Plum and Mota are dodging the violent strikes of the destroyer.
Thanks to the hidden tracker under the skin of Ruben, the technodefenseur can find out the location of the detainees. With his laser weapon, he can fire out at any moment.
Comitee : The new destroyer is here.
Technodefenseur : I can see him in my line of sight. About more than 6.5 feet tall approximatively.
Comitee : they won't get out alive.
Technodefenseur : 1... 2... 3...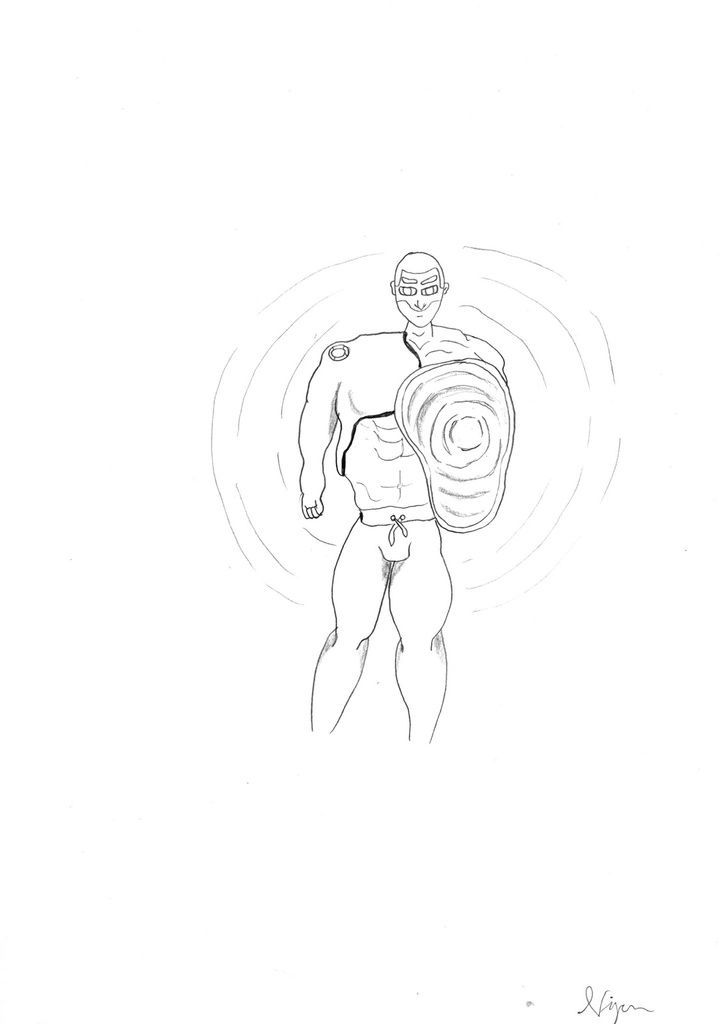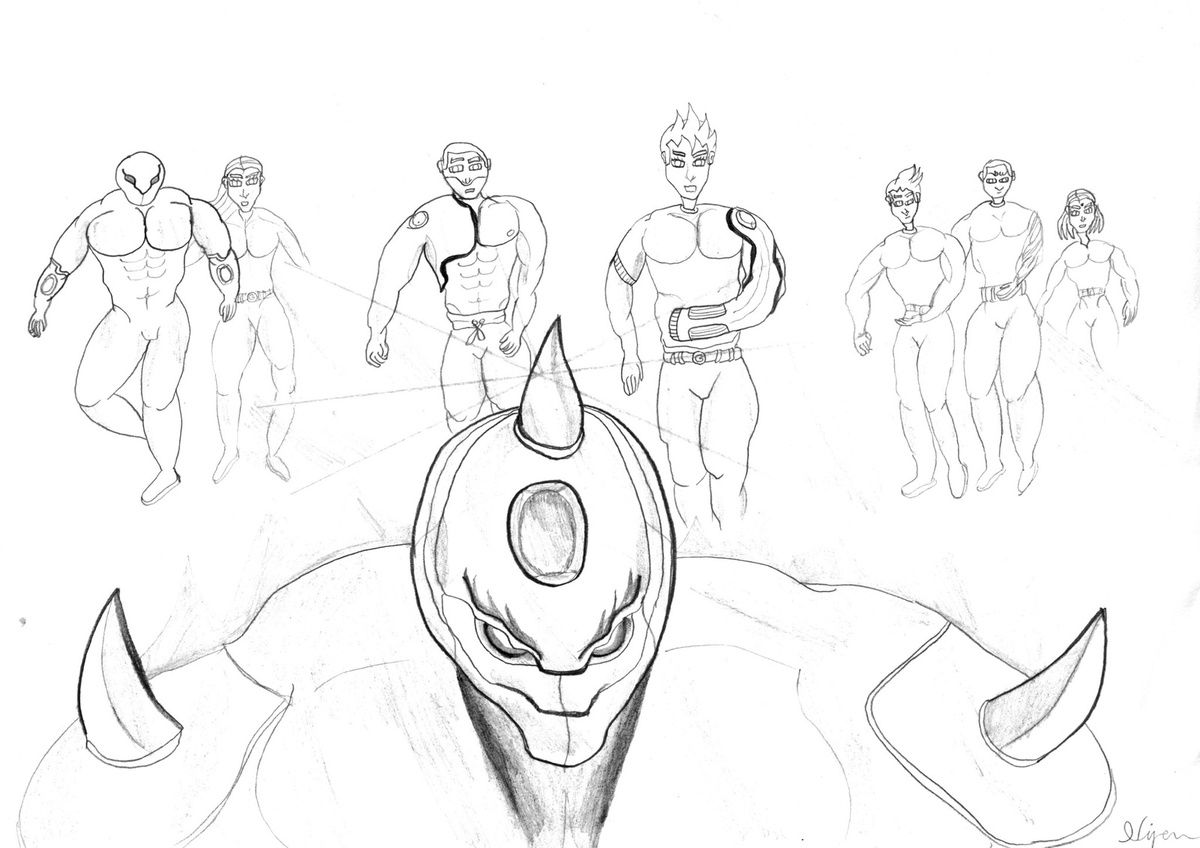 Les textes et les images ne sont pas libres de droits. Merci de me contacter avant utilisation. The texts and images are not free of rights. Please contact me before using it.
Un rayon laser ultrapuissant est projeté en direction du centre de détention. Transperçant les nuages un à un, le laser pulvérise complétement le mur pillier du centre de détention. Jana est sauvée de justesse. À la recherche d'arme, Ruben et Ylo fouillent dans tous les recoins. Mota et Plum ,quant à eux, essayent de prévenir le technodéfenseur. La prison est devenue un désert absolu. Comme emportés par les nuages noirs, les occupants du centre ont disparu subitement. Les chocs entre le bouclier de protection de Métal et les coups de griffe de Rinoféroce provoquent des ondes de chocs autour d'eux. Munies d'armes, les autres se précipitent à l'extérieur. Le technodéfenseur est posté en haut de la tour. Concentré sur la cible, il ajuste ses jumelles à longue distance. Tout à coup, le lion se met à travers de son chemin. Surpris, il fait tomber ses jumelles du haut du gratte-ciel. Comme un réflexe, il s'arme rapidement de son laser ultrapuissant. Les yeux du lion le regardent avec insistance. Prêt à tirer, il cherche sa cible.
Ylo, Ruben, Mota, Plum et Jana se trouvent à l'extérieur. À la vitesse d'une fusée d'attaque, le lion fonce tout droit sur Ylo. Le jeune homme téméraire prend son élan. Dans une course endiablée, il saute le plus haut possible en atteignant des hauteurs vertigineuses. On assiste à un face à face épique dans les airs.
Avec son bouclier de protection, Métal se protège le corps. Il fait signe de la main comme un appel au secours. Quelqu'un l'observe. Il en est persuadé. Il commence le décompte à l'aide de sa main. Le compte à rebours est lancée.
Métal : 3 ... 2 ... 1....
Le technodéfenseur tire un laser ultrapuissant en direction de Métal. En utilisant son bouclier de protection, Métal arrive à dévier la trajectoire du laser qui se répercute directement sur l'armure de Rinoféroce. Celui-ci est projeté dans le mur.
En affrontant Les créatures les plus dangereuses du monde de Karma, Métal et Ylo vont -ils connaître un destin tragique ?
A powerful laser beam is launching in direction of the centre of detention. Transpiercing the clouds one by one, the laser is pulverizing completely the main wall of the detention centre. Jana is saved in extremis. Ruben and Ylo are searching everywhere for new weapons. Mota and Plum , on their side, are trying to warn the technodefenseur. The prison looks like a absolute desert. By taken by the dark clouds, the people around has been vanished suddenly. The shocks between the protective shield of Metal and Rinoferoce' claws hits are causing shock waves around them. Armed, the others are rushing outside. The technodefenseur is on top of the tower. Focused on his target, he's adjusting his long distance binoculars. All of a sudden, the lion is appearing, on his way. Surprised, the binoculars are falling from the top of the skyscraper to the ground. Like a reflexive movement, he's grabbing his powerful laser weapon rapidly. The eyes of the lion are looking at him insistently. He's loading his weapon. He's ready to shoot.
Ylo, Ruben, Mota, Plum and Jana are outside. As a falling down rocket, the lion is plunging directly on Ylo. The young and fearless man is taking a long run-up.. In an amazing run, he's jumping higher and higher, reaching high height. The action scene in the air is epic between Ylo and the lion.
With his protective shield, Metal is protecting his body. He's waving his hand. Somebody is watching him for sure. He' s certain. He starts the counting with his hand. The countdown has just begun.
Metal : 3... 2... 1...
The technodefenseur is shooting a powerful laser beam in direction of Metal. By using his protective shield, Metal is deviating the path of the laser beam from his shield to the armour of Rinoferoce. The destroyer is projected into the wall.
By fighting with the most dangerous creature of the world of Karma, Would Metal and Ylo face a tragic fate?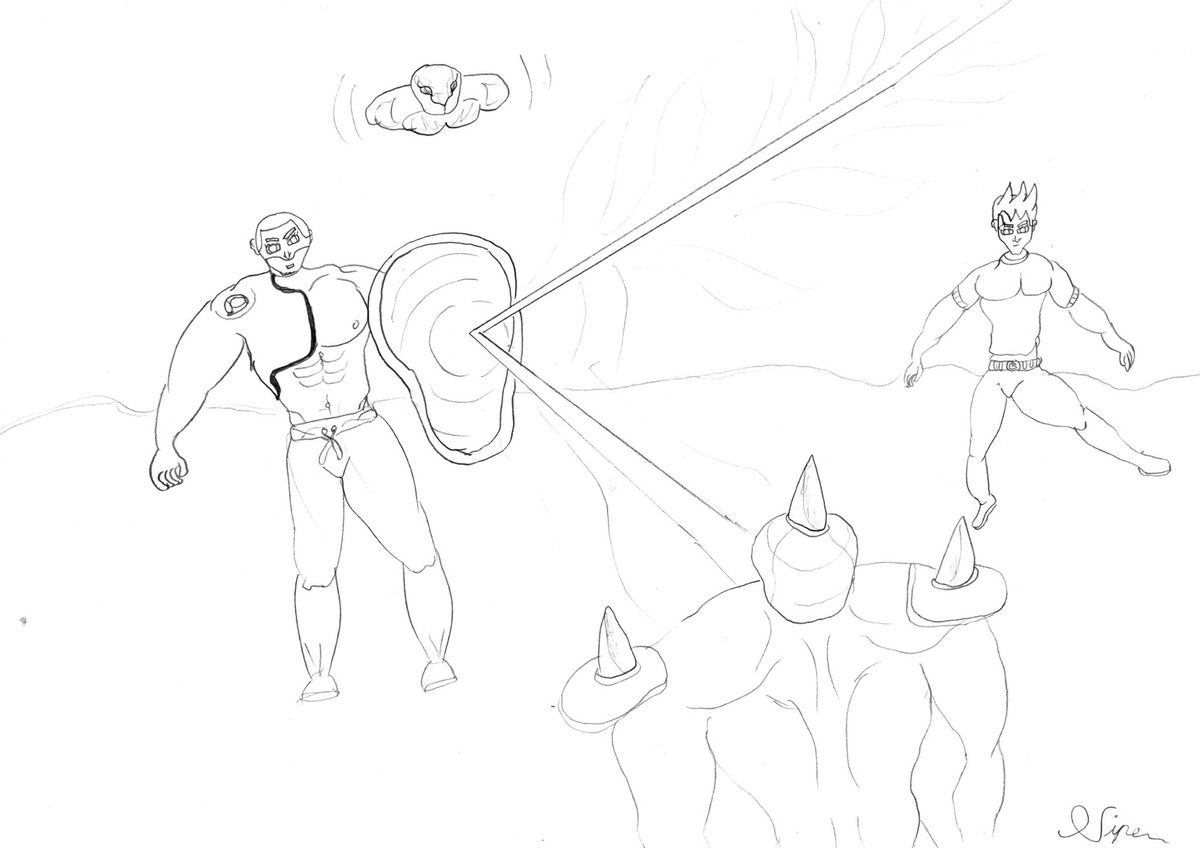 Les textes et les images ne sont pas libres de droits. Merci de me contacter avant utiliation. The texts and images are not free of rights. Please contact me before using it.