23
May
La dévastation III / The devastation III

Comme surgissant des enfers, le lion s'enflamme. Des flammes recouvrent le corps et le visage du lion. Il passe du noir des ténèbres aux couleurs du feu instantanément comme s'il s'embrasait. L 'impact entre Ylo et l'éminence puissance est imminent. Le lion l'entraîne dans sa chute infernale. Ils s'écrasent au sol en causant un gouffre gigantesque. La surface de la terre se met à trembler. L'après-coup est très violent. Mota, Ruben, Plum et Jana perdent l'équilibre. Le sol se fissure en entraînant des failles terrestres. Ce n'est pas une illusion, il s'agit bien de secousses sismiques. Métal avance au pas à la recherche d'Ylo. La profondeur du gouffre est immense.
Métal : Il n'y a pas de signe de vie !
Plum : Ylo a disparu.
Les secousses sismiques s'intensifient.
Ruben : Accrochez-vous !
Le laser n'a pas endommagé l'armure résistante de Rinoféroce. La gigantesque bête se dresse sur ses pattes. Le tremblement de terre ne semble pas avoir d'effet sur l'abominable destructeur. Derrière Mota, Rinoféroce attend le moment propice pour l'achever.
Plum : Mota, attention. Derrière toi !
Soudainement, Il prend l'arme de démolition. Avec sa force colossale, le désosseur le hisse en l'air en lui assainant des coups d'une extrême violence. Mota est enchaîné par Rinoféroce. Les tirs de pistolet fusent de part et autre en atteignant son armure. Les balles ricochent sur cette impressionante alliage métallique.
Coming from the hell, the lion is on fire. His body and his face are recovered by burning flames. From the black of the darkness to the colors of the fire, the lion is gleaming immediately. The impact of Ylo and the eminence puissance is imminent. The lion is training Ylo on his inferno fall. They are crashing on the ground by causing a gigantic chasm. The landsurface starts shaking. The aftershock is very violent. Mota, Ruben, Plum, and Jana are loosing one's balance. The swaths of land are damaged. It's not an illusion, it's sismic tremors. Looking for Ylo, Metal is moving dead slow. The chasm is hugely deep.
Metal : No sign of life here !
Plum : Ylo is missing
The sismic tremors are getting stronger and stronger.
Ruben : Be careful !
The resistant armour of Rinoferoce hasn't been damaged by the laser beam. The gigantic beast is back on his forefeet . The earthquake doesn't have any effects on the abominable destroyer. Behind Mota, Rinoferoce is waiting for the right moment to kill him.
Plum : Mota, be careful, behind you !
Suddenly, he's taking back his demolition weapon. With his colossal strenght, the "desosseur" is lifting Mota up in the air by hitting him with extrem violent force. Mota is unchained. The gunshots are aiming at his armour. The balls are ricocheting off his impressive iron alloy.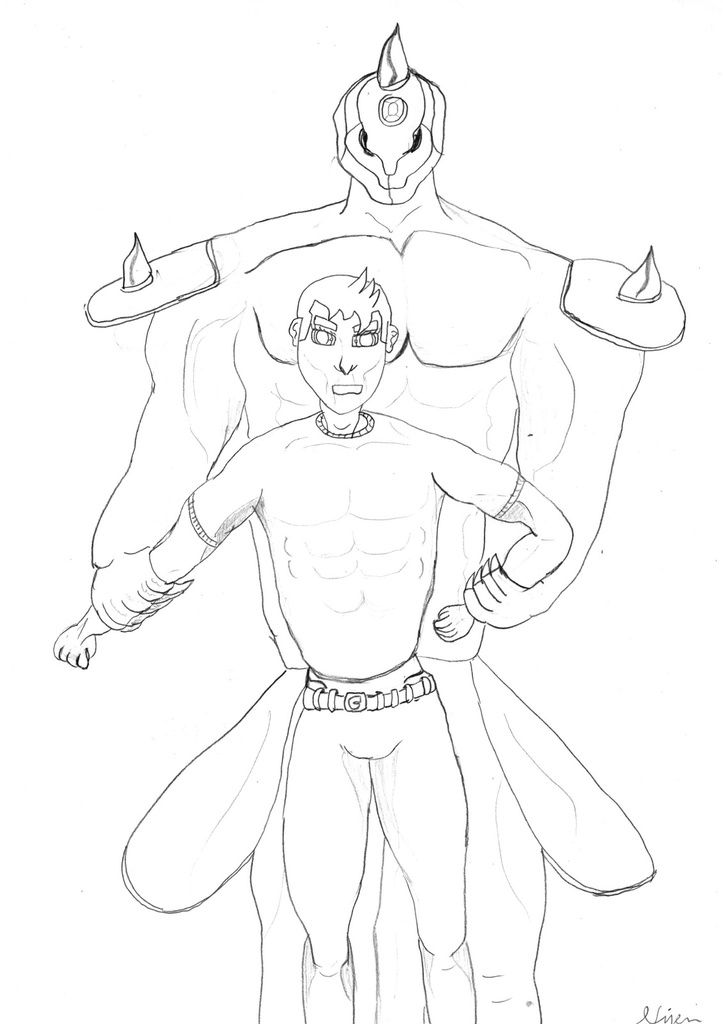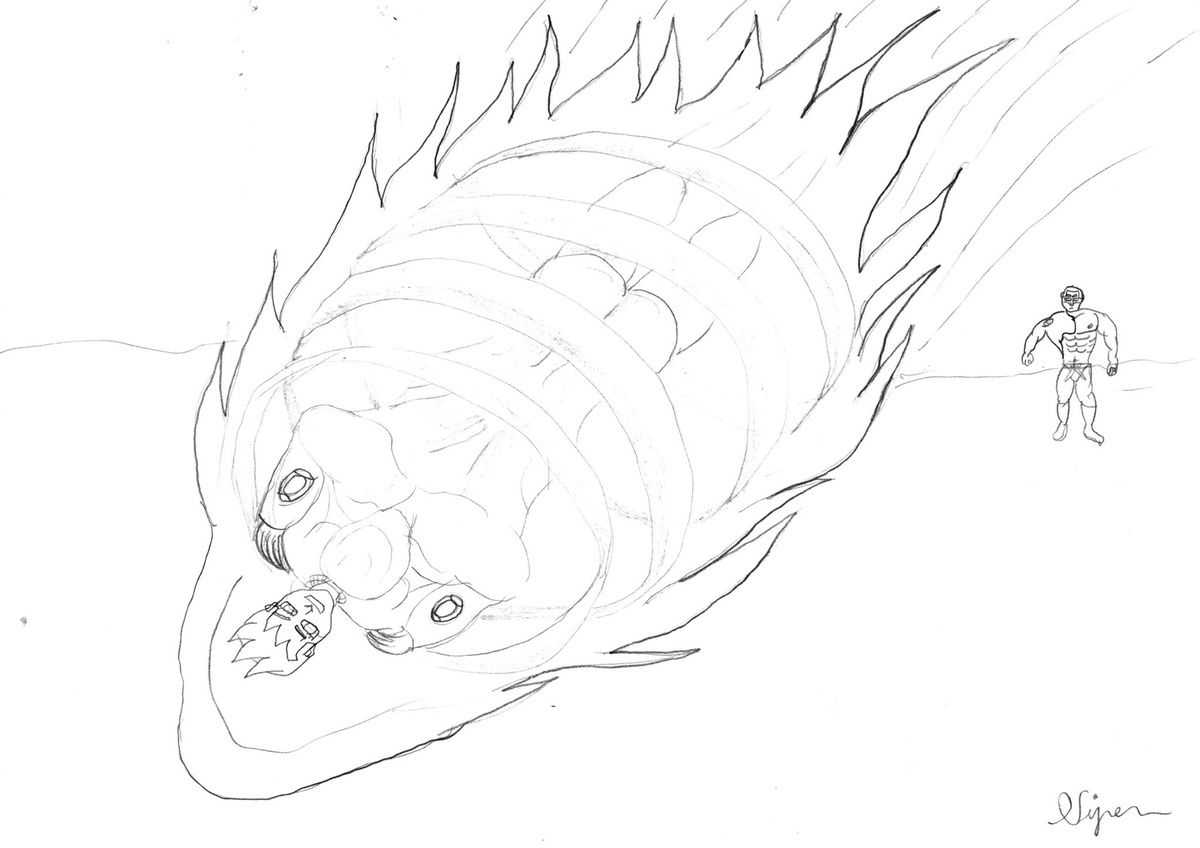 Les textes et les images ne sont pas libres de droits. Merci de me contacter avant utilisation. The texts and images are not free of rights. Please contact me before using it.
Métal et Ruben cherchent un moyen de s'enfuir. Le tremblement de terre est entrain de se propager.
Métal : Il faut s'éloigner de l'épicentre rapidement. L'activité sismique est trop forte.
Ruben : Le risque d'effondrement est important.
Plum est en larmes. Le trop plein d'émotion la fait craquer mentalement. Dans ses bras, Jana est trop fatiguée pour faire le moindre mouvement. En face de Plum, Rinoféroce déboîte l'épaule de Mota. Le bruit du craquement des os est absolument terrifiant. Le sang gicle de partout en innondant le sol. Furieux, le désosseur lui arrache complètement le bras. Plum vient d'assister à l'horreur. Ses pleurs sont incontrôlables. Mota est à l'agonie. La situation est critique. Rinoféroce mérite bien son nom de désosseur. Le bras arraché de Mota témoigne de l'effroyable cruauté du destructeur.
Le contrôle du dissimulateur sur l'atmosphère perd de son effet. Les nuages noirs disparaissent petit à petit. La lumière éclaire à nouveau la cité technologique. Comme des faisceaux lumineux traversant les nuages, ils sont entrain de se dissiper progressivement. L'espoir renaît. Le tremblement de terre s'est arrêté brusquement. Les cicatrises sont visibles et profondes sur la surface de la terre.
Le mystèrieux voyage d'Ylo et du lion au centre de la planète Karma est une énigme. La chute d'Ylo dans le gouffre de l'enfer plonge Métal dans le désaroi. La dévastation a laissé des traces de séquelles lourdes chez nos aventuriers. Pourront-ils surmonter leur peurs pour vaincre Rinoféroce?
Metal and Ruben are trying to run away. The earthquake is spreading around.
Metal : We need to run away quickly from the epicenter. The sismic activity is too strong.
Ruben : The collapsing risk is very high.
Plum is crying out loud. The emotional breaddown makes her loosing her mind. In her arms, Jana is too tired to make a single move. In front of Plum, Rinoferoce is dislocating Mota's shoulder from his body. The sound of the broken bone is absolutely awful. The blood is leaking profusely in flooding the ground. Furious, the "desosseur" is taking off completely his arm. Plum is the eye witness of the horror scene. Her crying are unstoppable. Mota is in agony. The situation is critical. The wipe off arm of Mota is witnessing the dreadful cruautly of the destroyer. Rinoferoce derserves his name of "desosseur".
The dissimulateur is loosing control on the atmosphere. The black clouds are disappearing progressively. The light is shining again, enlightening the technological city. The lighting beams are passing through the vanishing clouds, the hope comes back. The earthquake stops abruptly. The visible wounds are deep on the land surface.
The mysterious journey of Ylo and the lion in the center of the planet Karma is an enigma. The dramatic fall of Ylo into the hell chasm is throwing Metal in disarray. The devastation has caused a lot of after effects on our adventurer. Can they overcome their fears to defeat Rinoferoce ?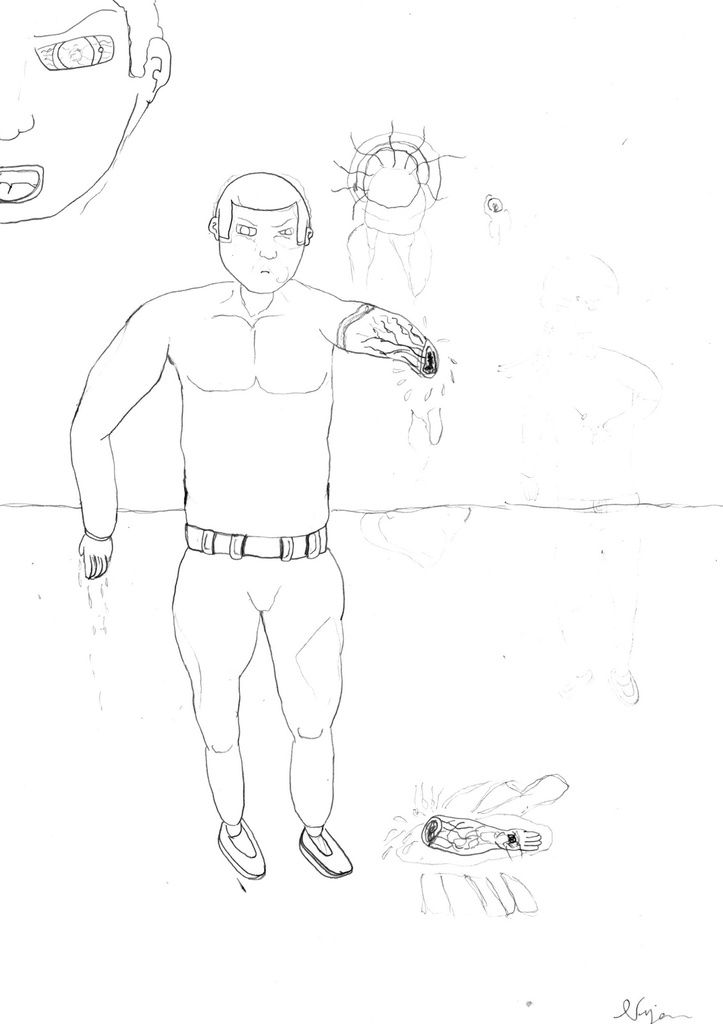 Les textes et les images ne sont pas libres de droits. Merci de me contacter avant utilisation. The texts and images are not free of rights. Please contact me before using it.