04
Jun
Piège de feu III / Fire trap III

Technoville est sous l'emprise du règne de feu. Piégé par la lave en fusion, Technoville peut être englouti à tout moment. Le combat acharné entre le Technodéfenseur et Rinoféroce est d'une rare violence. Les armures des deux rivaux s'entrechoquent. La puissance des charges infligées est telle qu'aucun être humain ne pourrait survivre à ces coups mortels. Quelle armure sera la plus résistante ? La protection métallique du Technodéfenseur est sur le point de se fendre sous les coups de griffes tranchantes du désosseur. Plus Rinoféroce lui assaine de coups, plus la force du Technodéfenseur s'affaiblit le forçant à se mettre à genoux. Comme s'il se prosternait à ses pieds montrant ainsi un signe de la domination du destructeur sur le Technodefenseur. Rinoféroce puise son énergie dans l'au-delà où les morts régnent en tant que maître.
Les ondes de chocs causées par les attaques successives du destructeur sont ressenties intensément par Métal qui a la faculté de ressentir l'énergie. Avec les bras écarquillés, le Technodéfenseur sent son armure se fendre petit à petit. Comme pour montrer sa supériorité par la taille et sa domination par la force, Rinoféroce est sur le point de lui briser son armure en deux.
Rinoféroce (s'adressant au Technodéfenseur) : Est ce qu'il y a un coeur derrière cette armure ?
Métal : J'ai la réponse !!!
Surpris par la voix soudaine de Métal, le destructeur se retourne brusquement. Rinoféroce est aveuglé par un laser surpuissant. Ses yeux rouges couleur sang deviennent rouges écarlates. La pression du laser sur les yeux du Rinoféros est trop forte. Des fissures se créent autour de son orbite oculaire, le même phénomène observé que la création de faille sur la croûte terrestre.
En position de combat, Métal dégaine sa technoarme, un pistolet de dernière génération. Avec une précision incroyable, Le meneur pointe sa technoarme contre le destructeur. L'armure du Rinoféroce est beaucoup trop résistante pour craindre les coups de feu. Intelligement, il se concentre sur le point faible de la créature. Tel un tireur d'élite, il vise la pierre de pouvoir du Rinoferoce qui se trouve dans sa ligne de mire.
La pierre de pouvoir est pulvérisée en résidu de poussière.
Technoville is under the control of the reign of fire. Trapped by the molten lava, Technoville could be engulfed at any moment. The fierce fight between the Technodefenseur and Rinoferoce is very violent. The armour of the two rivals are knocking together. The force of the inflicted charges is so strong that no human being can survive to the mortal hits. It's the death instantly. Which armour will be the most resistant ? The metallic protection of Technodefenseur is damaged because of the heavy cutting claws of the desosseur. More Rinoferoce is hitting him, more the power of the technodefenseur is decreasing dramatically on forcing him kneeling down in front of him. The Technodefensuer is bowing at his forefeet, Rinoferoce is showing his displays of dominance. The energy of his power is coming from the underworld where the dead people are king.
Metal is feeling intensively the vibes of the shock waves of the destroyer's multiple attacks. He has the ability to feel the energy. With wide opened arms, the armour of the technodefenseur is cracking bit by bit. By showing his superiority by his height and his domination by his strenght, Rinoferos is capable to smash his armour to bits.
Rinoferoce (talking to technodefenseur): Is there a heart beneath this armour?
Metal : I 've got the answer !!!
Surprised by sudden voice of Metal, the destroyer is turning back abruptly. Rinoferoce is blinded by a superpowerful laser beam. His eyes are turning the color of blood to sparkling red. The pressure of the laser beam on Rinoferoce's eyes is too strong. Some fissures are appearing around his eye-socket, the same phenomeon observed for the creation of gap on the planet's crust.
In fighting position, Metal is showing his technoweapon, a last generation gun. With his incredible accuracy, the ringleader is pointing his technoweapon against the destroyer. The armour of Rinoferoce is too resistant to get damages by firegun. Smart guy, he's focusing on the weaknesses of the destroyer. Like a sharpshooter, he's aiming a technoweapon at the powerstone of Rinoferoce.
The powerstone is pulverized into dusts.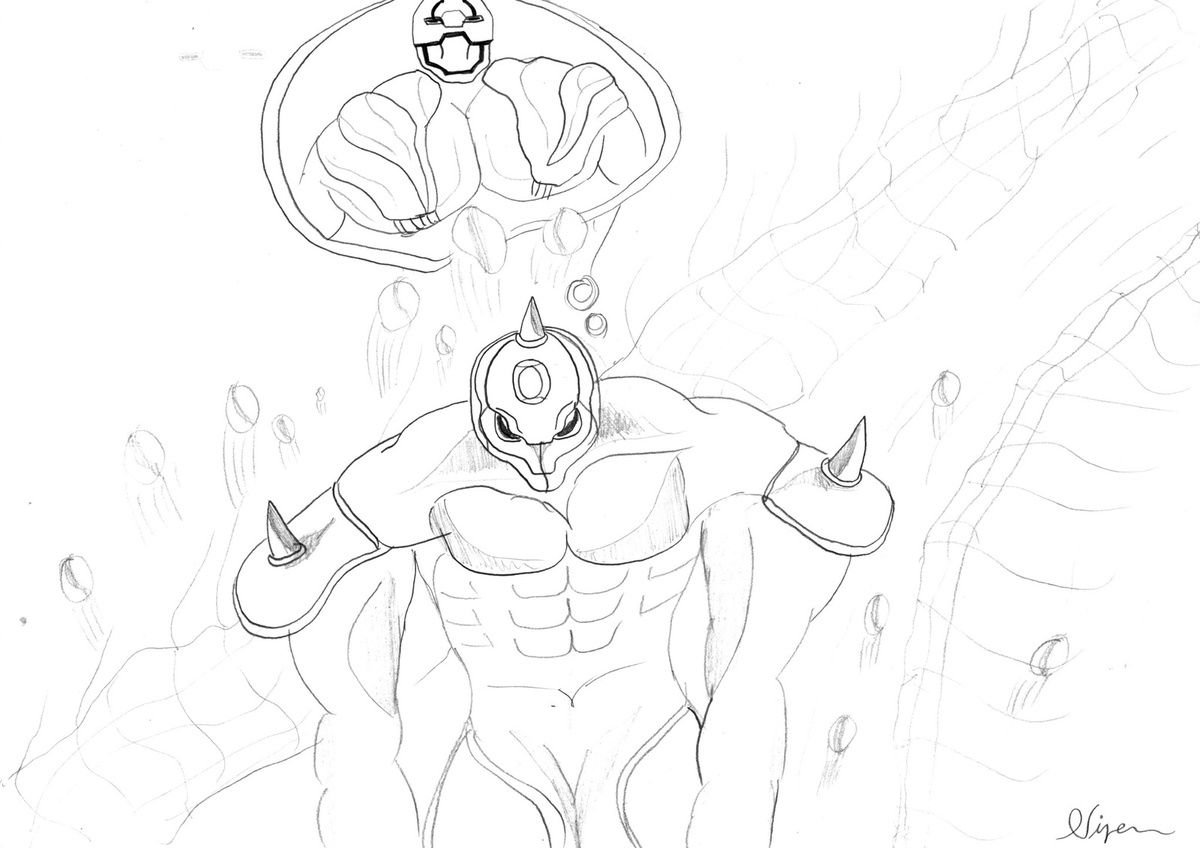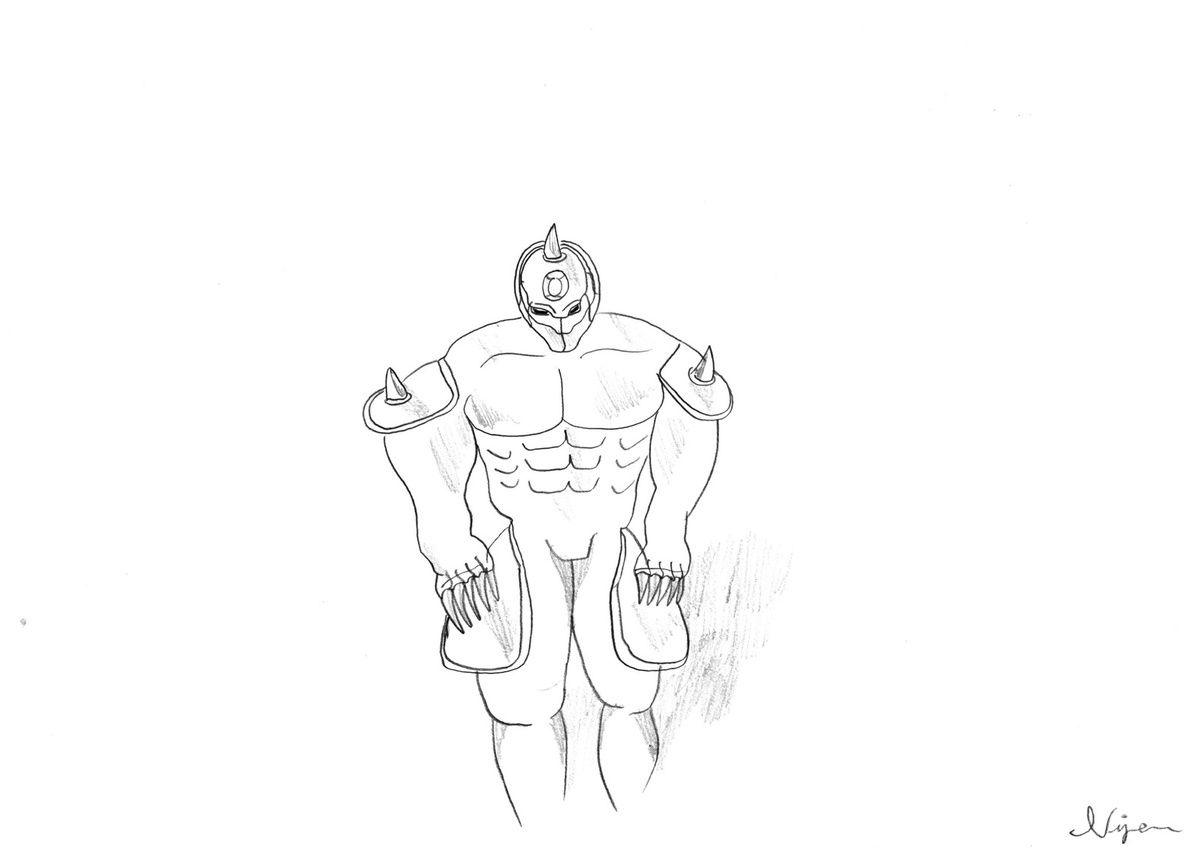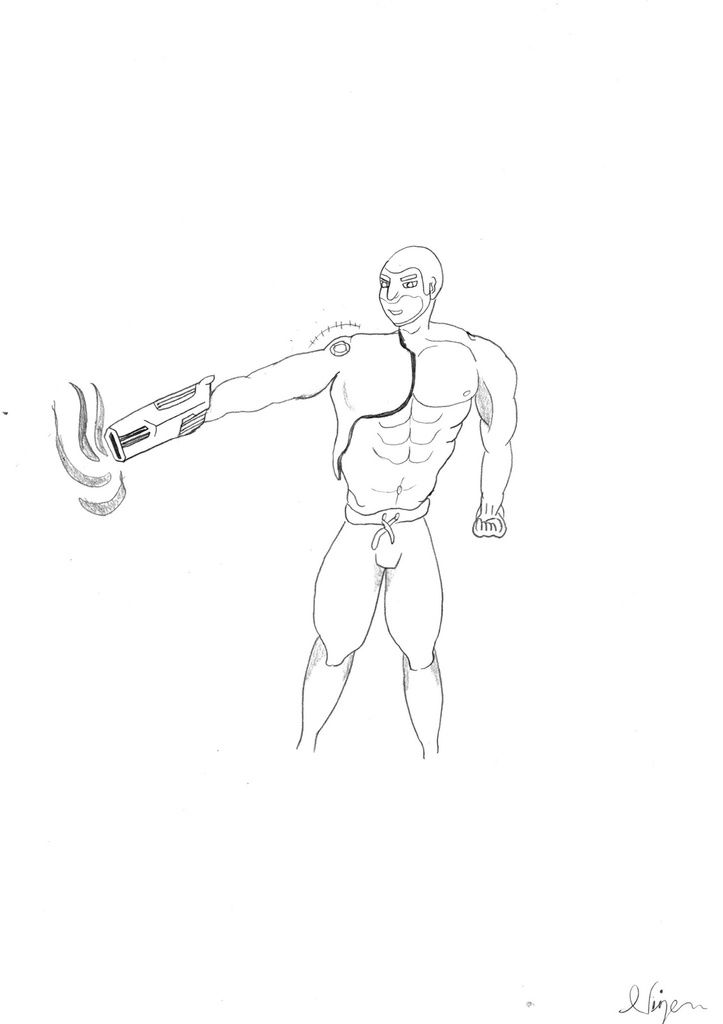 Les textes et les images ne sont pas libres de droits. Merci de contacter l'auteur avant l'utilisation. The texts and images are not free of rights. Please contact the author before using it.
Les coulées de sang provenant des cadavres mutilés sont entrain de recouvrir le sol du l'hôpital. À l'extérieur, des coulées de lave en fusion surgissent de la bouche de l'enfer en se propageant dans toute les directions. Alertée, Jana cherche à comprendre les événements. Elle contacte le sémillant scientifique Ruben.
Jana : Des coulées de lave sont entrain d'envahir la ville. Ruben, mais qu'est ce qui se passe au gouffre de l'enfer ?
Ruben : C'est comme un gouffre à la surface de la planête! Mais à l'intétérieur de la planête, c'est comme un volcan. C'est comme une image renversée.
La journaliste Plum se trouve à côté de Ruben et entend la conversation.
Plum : Si je comprend bien. Ça a les mêmes caractéristiques qu'un volcan.
Ruben : On n'est encore sûr de rien.
Ruben (s'adressant à Jana) : Il faut vite que tu t'éloignes du gouffre de l'enfer! Il risque d'avoir une éruption si la pression est trop forte.
Jana : Ils sont entrain de faire des barrages afin d'empêcher la progression de la lave
Ruben : Prends tout ce que tu as besoin ! Rejoins nous rapidement!
Plum : Ruben ! J'ai trouvé des informations sur le pouvoir de la glace ! Regardes !
The blood flows, coming from the mutilated corpses, are recovering the floor of the hospital. Outside, the molten lava flows are widespreading everywhere in the provenance of the hell chasm. Be aware of this phenomeon, Jana wants to understand what is going on. She 's calling Ruben, the spirited scientist.
Jana : I'm the witness of the lava ascents right now. The lava flows are invading the city. Ruben, What the hell is going on with the Hell chasm ?
Ruben : It's a chasm in the landsurface! But in the inside of the planet, it's a volcano. For my point of view, it's like a reverse image.
The journalist Plum is next to Ruben and she's listening to the discussion.
Plum : I think i have understood. Is it the same feature of a volcano?.
Ruben : We are not 100% sure.
Ruben (talking to Jana ) : You need to run away as fast as possible ! There's a change that the volcano will soon erupt because of the high pressure.
Jana : they are building barricades in order to avoid the lava's ascension.
Ruben : take everything that you need ! Join us quickly!
Plum : Ruben ! I have found some information about the ice power ! Take a look !