06
Jun
Piège de feu V / Fire trap V

Le combat rapproché entre le destructeur et le Technodéfenseur a été long et difficile. Grâce à l'offensive éclair de Métal, Rinoféroce est fragilisé. Sans l'énergie de la pierre de pouvoir, Rinoféroce est vulnérable. L'affrontement entre le destructeur et Métal a tourné en faveur de l'homme au bras bionic. Le colosse est tombé devant Métal causant l'affaissement du sol dû à la lourdeur de son armure. Il ne se relève pas.
À proximité de la scène de combat, Mota relève le Technodéfenseur.
Mota : Métal a réussi à toucher son point faible!
À l'aide de son armure de protection bionic, Mota arrive à soulever d'impressionnante charge mais arrive difficilement à réaliser des mouvements fluides à cause de ses problèmes de motricité. certainement, dû au temps d'adaptation ou de synchronisation entre son armure et son esprit, Mota fait preuve de détermination et de courage. À l'intérieur de l'autotech, Mota déploie un canon à torpille fabriqué pour le Technodéfenseur. À l'aide de cette impressionante arme offensive conçue par Métal, le Technodéfenseur est prêt à affronter les épreuves qui les attendent.
The close fighting between the destroyer and the technodefenseur has been hard and difficult. With the lightening attack of Metal, Rinoferoce is fragilized. Without the energy of the powerstone, Rinoferoce is vulnerable. The confrontation between the destroyer and Metal is turning to advantage for the man with the bionic arm. The colossus is falling in front of Metal causing a ground subsidence due to the heavy weight of his armour. He's not getting back in his forefeet.
At the proximity of the fighting scene, Mota is lifting up the Technodefenseur.
Mota : Metal has hit his weakness !
With the help of his bionic protective armour, Mota can lift up impressive weights but he has difficulties to make fluent moves because of his motricity problem. Certainly, because of the adaptation or synchronisation time between his armour and his mind, Mota is earning one's spurs. In the inside of the autotech, Mota is taking a torpido barrel made for the Technodefenseur. With this impressive attack weapon made by Metal, the technodefenseur is ready to defeat the awaiting challenge.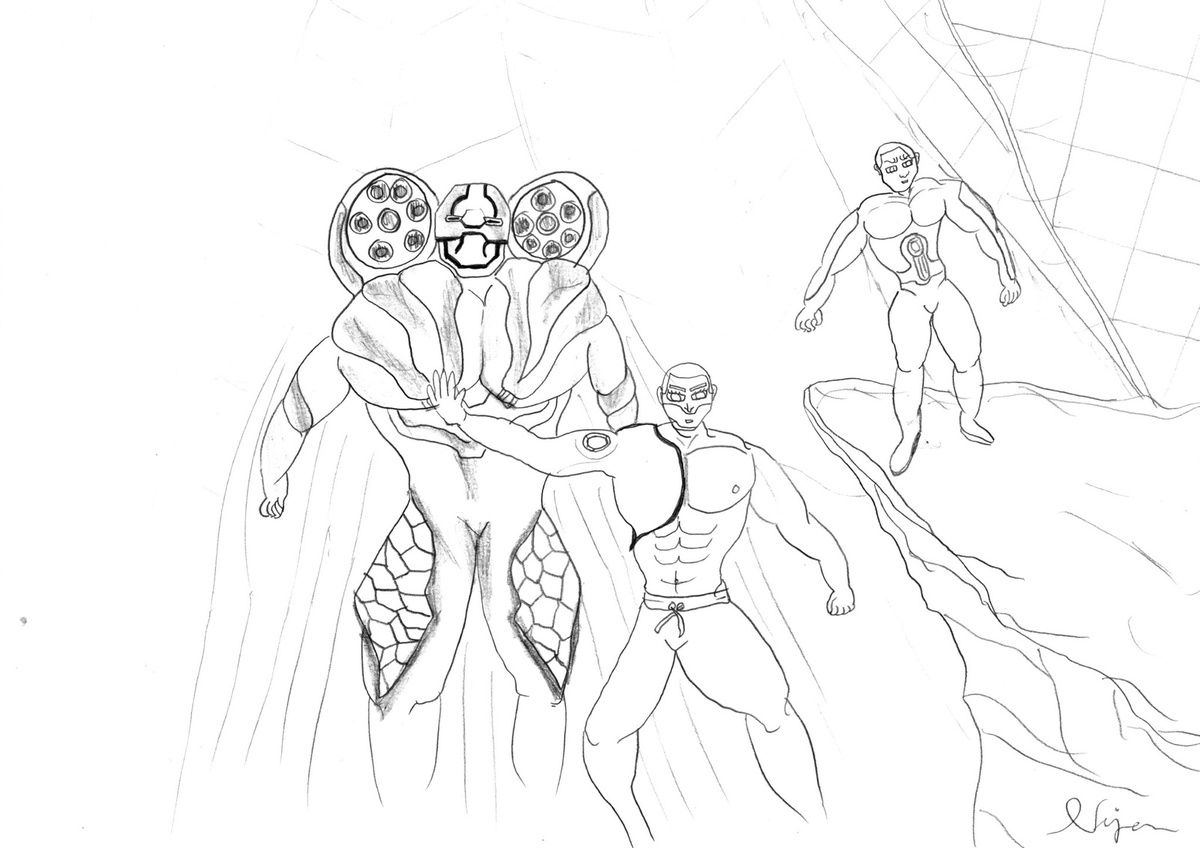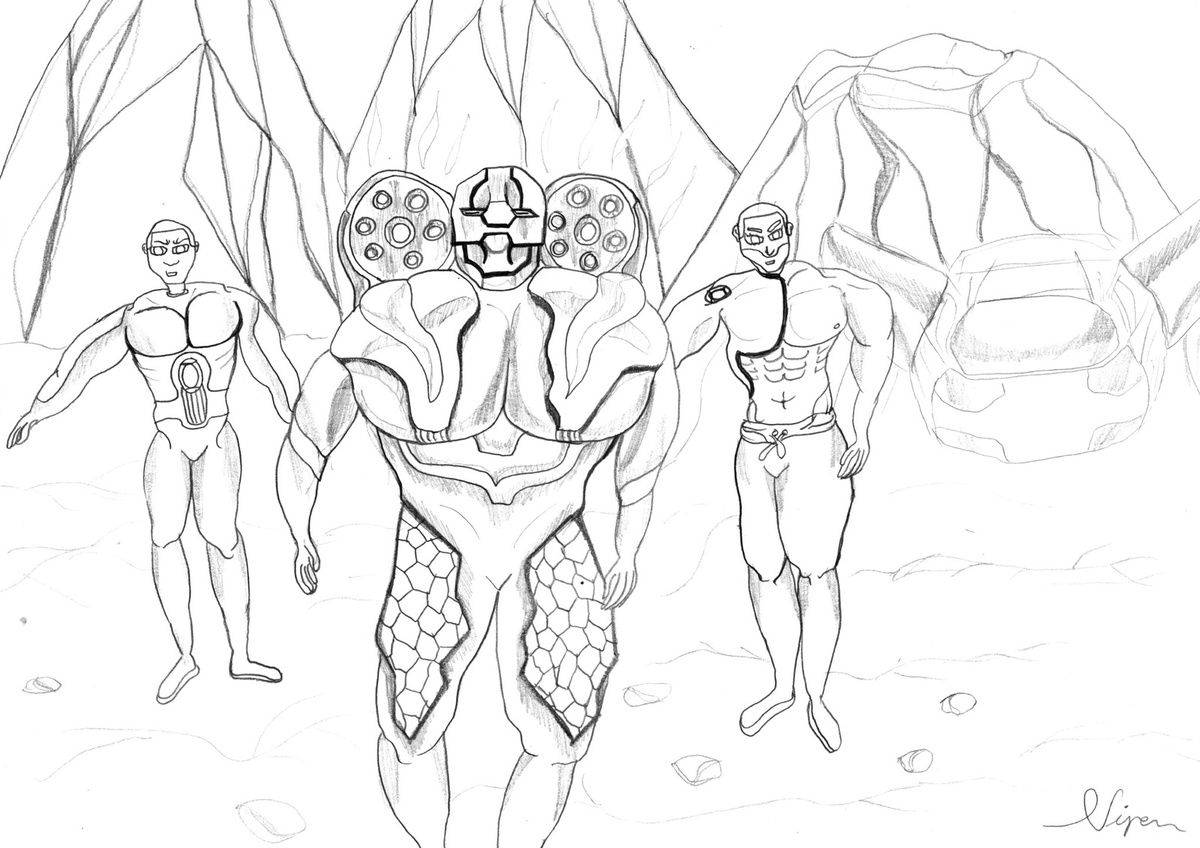 Les textes et les images ne sont pas libres de droits. Merci de contacter l'auteur avant utilisation. The texts and images are not free of rights. Please contact the author before using it.
Mota installe l'engin sur le dos du technodéfenseur.
Mota : Le canon à torpille est pour vous! Ça va s'enclencher !
Technodefenseur, à nouveau sur pied : Je constate une malfaçon au niveau des sorties des torpilles. Est ce normal ?
Mota : Vous ne connaissez pas l'histoire de Métal?
Technodéfenseur : Comment ça ?
Mota : Métal a été dans un groupe de bombardier. C'est un tireur d'élite hors pair. Son acuité visuelle est d'une précision incroyable. Il était réputé pour tuer ses oppossants avec une seule balle. Lors d'un combat avec une de ses créatures, Métal a perdu la moitié de son corps. Les circonstances étaient absolument tragiques. Avec juste une seule balle, il aurait pu connaître une autre issue. C'est à partir de ce moment-là qu'il est devenu supersticieux.
Technodéfenseur : Les défauts ne sont pas des défauts lorsqu'on sait vivre avec. Non, ça ne me dérange pas plus que ça.
Mota : Ce n'est pas un homme conventionnel. Ce canon à torpille est la fusion de pièces recyclées provenant d'une autotech endommagée et d'une arme de bombardement datée.
Pénétrer à l'intérieur du gouffre de l'enfer va nécessiter davantage de missiles et torpilles. Avec l'obstruction de l'accès au monde souterrain, Ylo est emprisonné à l'intérieur de la planête Karma. Entre les spéculations des différents protagonistes et des signes avancoureurs de catatrophe terrestre, météorologique, le mystère se cristallise en la personne de Ylo.
Mota is installing the engin on the back of the Technodefenseur.
Mota : The torpedo barrel is for you ! It will start triggering!
Technodefenseur, back to his feet: I have noticed a design fault concerning the torpedo's holes. Is it normal?
Mota : Don't you know the story of Metal ?
Technodefenseur : How come ?
Mota : Metal has belonged to a group of bomber. It's an incredible sharpshooter. His visual acuity is amazing by his accuracy. He has reknown to kill his opponents with just one bullet. During a battle with one of these creatures, Metal has lost a half of his body. The circumstances were absolutely tragic. Just one bulllet can lead to save one life. It's at this specific moment in his life when he has started becoming superstitious.
Technodefenseur : The faults are not faults when you know how to life with it. No, it don't bother me at all.
Mota : He's not a conventionnal man. This torpedo barrel is the fusion of recycled pieces coming from an damaged autotech and an old bomber weapon.
To penetrate inside the hell chasm, We need more torpedos or missiles. With the obstruction of the access of the underworld, Ylo is imprisoned inside the planet of Karma. Between the rumors of different protagonists and the bad sign of natural disasters, the mystery is cristallized on the person of Ylo.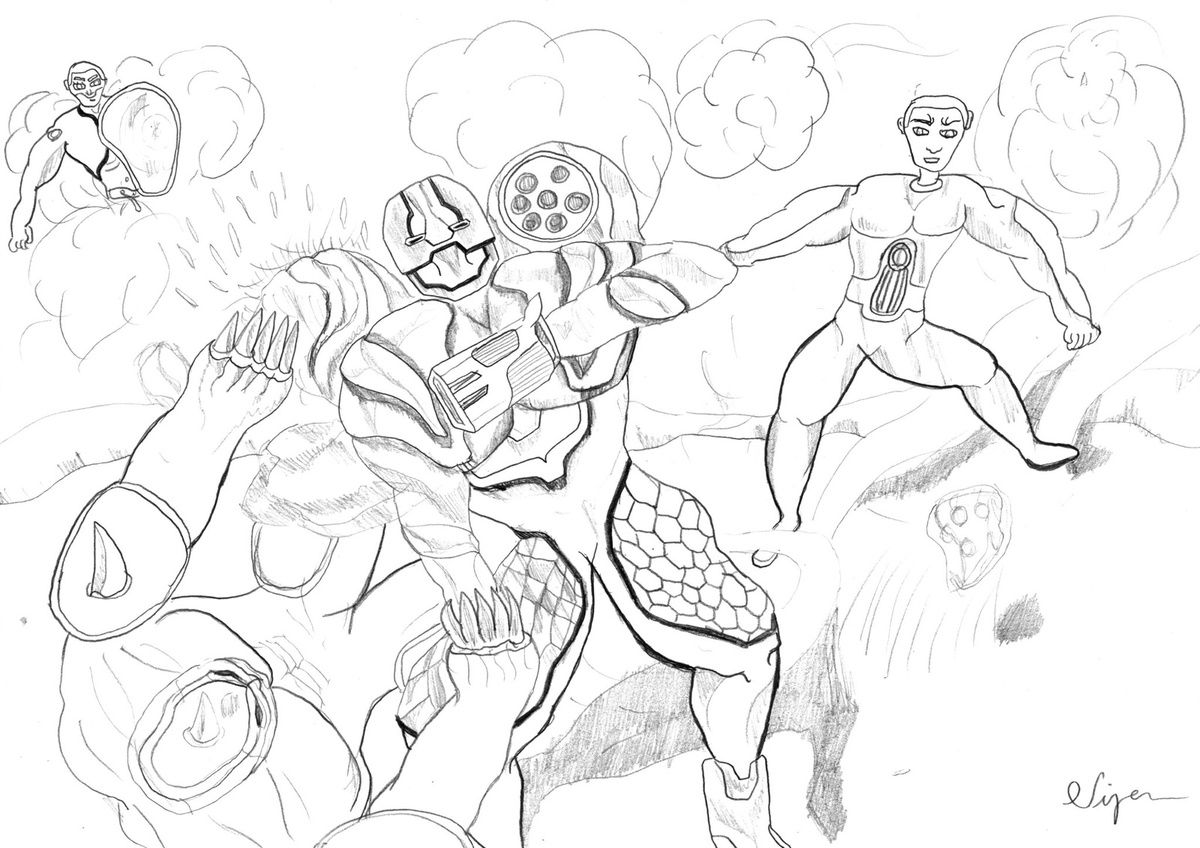 Les textes et les images ne sont pas libres de droits. Merci de contacter l'auteur. The texts and images are not free of rights. Please contact the author.