02
Jun
Piège de feu I / Fire trap I

Ruben et Plum profitent de l'absence du Technodéfenseur pour s'échapper de la tour. Rattrappés par le séisme, les deux potentiels courent à travers la ville. Comme un jeu de domino, les grattes-ciel s'affaissent un par un. Ils esquivent les objets tombants et les débris au sol. Ce parcours périlleux est rempli d'obstacle. Dans cette course éffrénée, Ruben et Plum se dirigent vers le laboratoire de Métal. Tout à coup, Plum trébuche sur un reste de corps humain et tombe. Ruben l'a rattrappé de justesse. Il sent que le danger est proche. Le désosseur n'est pas loin en attendant sa proie. Arriveront-ils à atteindre le laboratoire de Métal à temps ?
À l'hôpital, les corps des victimes s'entassent jour après jour. C'est l'horreur absolue. Afin de faire face à l'urgence, la mission de Jana consiste à identifier les corps désossés, mutilés, décapités. Comme dans une scène épouvantante, Jana tient entre les mains le bras d'une des victimes du prédacteur. À l'aide de l'ADN et de l'analyse sanguine, elle peut réussir à trouver une correspondance auprès de la base de données des identités de Technoville. Toujours à la recherche d'Ylo, elle visualise encore son visage disparaître à l'intérieur du gouffre l'enfer. Ylo a disparu mais la tâche d'Ylo est toujours présente au sol. À la fois triste pour les victimes du désosseur et soulagé que ce ne soit pas Ylo, elle fait preuve de détermination et continue sa tâche. Jana ne connaît pas Ylo depuis longtemps mais le jeune homme la fascine. Persuadé de la grandeur de l'individu, Ylo peut faire changer le cours de l'histoire. L'espoir fait vivre. Elle continue son travail jusqu'au point où elle ne peut pratiquement plus respirer à cause de la puanteur des corps en décomposition. La réalité la rattrappe brusquement.
Ruben and Plum are running away from the tower. The technodefenseur is out there, not seeing them. The two potentials are rushing all over the city. Like a domino game, the skyscrapers are caving in one by one. They are dodging the fallen objects from the sky and the havocs on the ground. This perilous runaway is full of obstacles. In this raging race, Ruben and Plum is going to the laboratory of Metal. All of sudden, Plum is tripping over the human body's rest and falling over. Ruben is grabbing her in extremis. He's feeling that the danger is coming. The desosseur is not far away waiting for his prey. Can they arrive on time at Metal's laboratory?
In the hospital, the victim's bodies are piled up day after day. It's an absolute horror. In order to face the emergency, Jana's mission is to identify the hacked, mutilated, headed off bodies. Like a horror movie, jana is holding in her hands the arm of Predator's victim. Thanks to the bloodtest and the DNA's samples, she can find a match after the consultation of the Technoville's ID database. She's always in the search of Ylo . She can visualize the face of Ylo fading away inside the hell chasm. Ylo has disappeared but the drop of blood remains on the ground. Sad for the desosseur's victims and relieved to not find Ylo's body at the same time, she acts courageously and keeps doing her tasks. Jana doesn't know Ylo for a long time but the young man is fascinating her. She's convinced deep inside that Ylo can change the fate of the world. Hope can bring back Life. She's continuing her mission until the moment of she can barely breath out because of the stinkiness of the state of decay of the dead bodies. She's back to reality abruptly.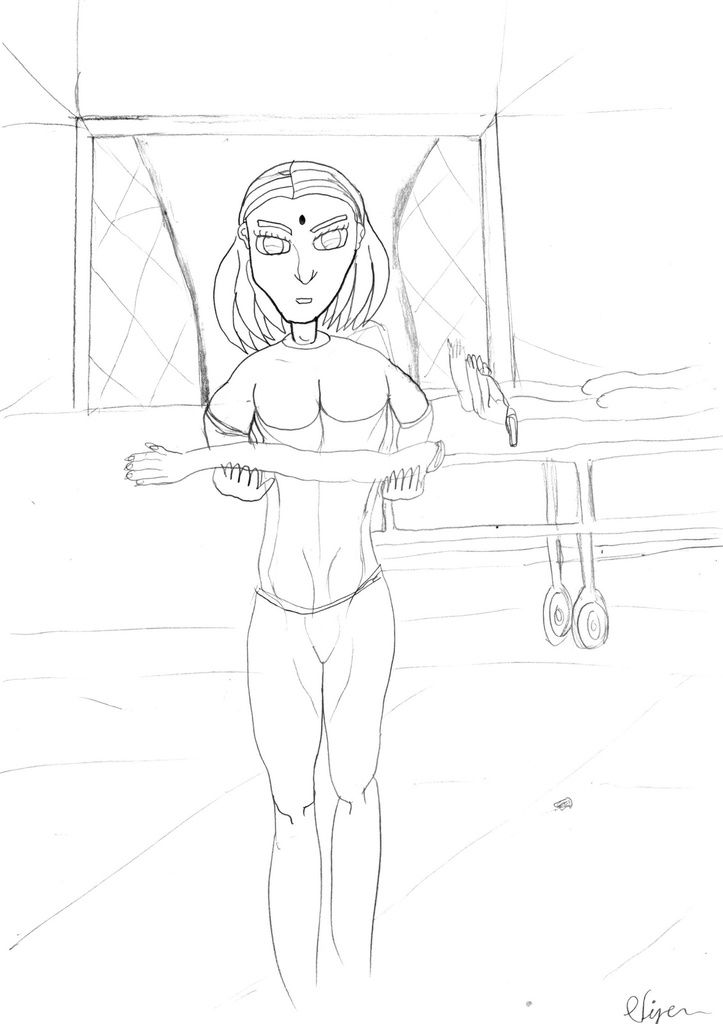 Les textes et les images ne sont pas libres de droits. Merci de contacter l'auteur avant utilisation. The texts and images are not free of rights. Please contact the author before using iit.
Dans son laboratoire, Métal attend avec impatience le réveil de Mota. La fierté submerge l'héroïque Métal qui vient de redonner "vie" à Mota. L'armure de protection bionic est une pure merveille de technologie. Les reflets sur l'alliage métallique de l'armure sont absolument époustouflantes. Avec son oeil aiguisé, il scrute le moindre défaut sur son armure de protection. C'est la perfection.
Mota : Je ne sens pas mon corps. Je n'arrive pas à bouger le haut de mon corps.
Métal : C'est à cause de la lourdeur de l'alliage métallique de l'armure de protection. Les composants thermo-résistants sont très lourds. L'assemblage a nécessité plusieurs heures de travail mais le résultat est incroyable.
Mota est un homme nouveau. L'émotion est palpable lorsque Mota découvre son nouveau bras bionic, ses mains, son armure. Avec un nouveau regard sur le monde, il arrive à se projeter dans le futur. Les gestes de Mota traduisent une forte émotion qui valent plus que des mots. Comme un pacte d'amitié, Mota serre la main de Métal avec une poigne de fer.
In his laboratory, Metal is waiting the awakening of Mota impatiently. Fulfilled by the joy of proud, the heroic Metal is giving "life" to Mota. The protective bionic armour is a brilliant feat of engineering. The light effects on the armour's iron alloy is absolutely astonishing. With his keen eyes, he's scanning the defaults on the protective armour. It's a perfection.
Mota : I cannot feel my body. I cannot move my upper body.
Metal : It's because of the heavy weight of the protective armour. The thermo-resistant components are extremely heavy. The assembling method has taken time but the result is incredible.
Mota is a new man. The emotion is palpable when Mota is discovering his new bionic arm, his hands, his armour. With his new bright glance on the world, he can see further in the future. The gestures of Mota are reflecting a strong emotion that are worth more than a single word. Like a bond of friendship, Mota is giving a handshake to Metal with an iron hand.
Les textes et les images ne sont pas libres de droits. Merci de contacter l'auteur avant utilisation. The texts and images are not free of rights. Please contact the author before using it.