16
Jul
Micro fusion thermique / Micro thermic fusion I
La terre brûlante de la vallée de la mort est un terrain hostile. L'autotech surfe au dessus du sol poussiéreux. À une vitesse incomensurable, Ruben, Plum et Jana fendent le nuage noir. Doté d'un système à vision nocturne, le pare brise à projection holographique en trois dimensions se déclenche en une fraction de secondes. Les battements de coeur de l'autotech s'accélérent progressivement comme un présage de mauvais augure. À la poursuite de Métal, Ruben profite de ce moment de répit pour discuter avec Jana et Plum des différents scénarios plausibles.
Ruben : Le danger est proche ! Le risque est grand ! Dans les jours ou dans les heures à venir, le supervolcan va entrer en fusion. La colère du monde souterrain va gronder ce qui va embraser le monde de Karma. Je n'ose imaginer l'état dans lequel se trouve les scientifiques.
Plum : Qu'est ce qui va advenir de Technoville?
Ruben : C'est le pire scénario envisageable. Le réveil du supervolcan peut entraîner des coulées de lave qui vont irriguer les veines, les tunnels du monde souterrain. La pression forte de la chambre magmatique peut faire imploser Technoville. Il faut que Métal et le Technodéfenseur trouve au plus vite un moyen de stopper le géant de magma!
Plum au bord des larmes : Et Ylo est toujours emprisonnié à l'intérieur de ses tunnels!
Ruben : Je crois en sa bonne étoile !
Jana : Est ce qu'on peut écouter les informations de Technoville ?
La radio se déclenche soudainement.
Autotech : Flash info. Les scientifiques sont formels. Le risque d'implosion est de plus en plus élevé. Une alerte a été lancée. Les habitants de Technoville sont entrain de d'évacuer la zone potentiellement dangeureuse. Le dysfonctionnement du bouclier énergétique de Technoville est un véritable problème. Avec le risque imminent d'implosion, l'écosystème de la région court un grave danger. Le préservateur le plus puissant du monde Karma arrive prochainement...
Ruben choqué : Non ! Le retour de Sérum !
Plum : Bon sang ! Il y a encore de l'espoir !
The burning land of the deathvalley is a hostile field. The autotech is surfing on top of the ground. At high speed, Ruben, Plum and Jana are slashing the black cloud. With a system of nightvision Integrated, the windscreen with holographic images in three dimensions is triggering in a fragments of seconds. The heartbeats of the autotech are beating faster and faster which is a bad early warning. In the pursuit of Metal, Ruben is taking the time to talk with Jana and Plum about the upcoming events.
Ruben : The danger is getting closer ! The risk is high! In the upcoming days or hours, the supervolcano will soon be in fusion. The anger of the underworld will be raging that will set ablaze the World of Karma. I don't want to imagine what is the reactions of the scientists.
Plum : What will happen to Technoville ?
Ruben : It may be the worst scenario possible. The awakening of the supervolcano will produce lava flows that will irrigate the veins, the tunnels of the underworld. The high pression of the magmatic room can blow away Technoville. Metal and the Technodefenseur should find rapidly a solution to stop the giant of magma!
Plum in tears : And Ylo is still trapped inside one of these tunnels !
Ruben : I'm praying for him !
Jana : Is it possible to listen the informations of Technoville ?
The radio is on suddenly.
Autotech : Flash info. The scientists are pretty sure. The implosion risk is getting higher and higher. An alert is on. The citizens of Technoville are leaving the dangerous stricken area. The dysfunctional energetic shield is a huge problem. With the imminent risk of implosion, the ecosystem of the area is in danger. The most powerful preservateur of The World of Karma is coming soon...
Ruben shocked : No way ! Serum is back !
Plum : God ! There 's still hope !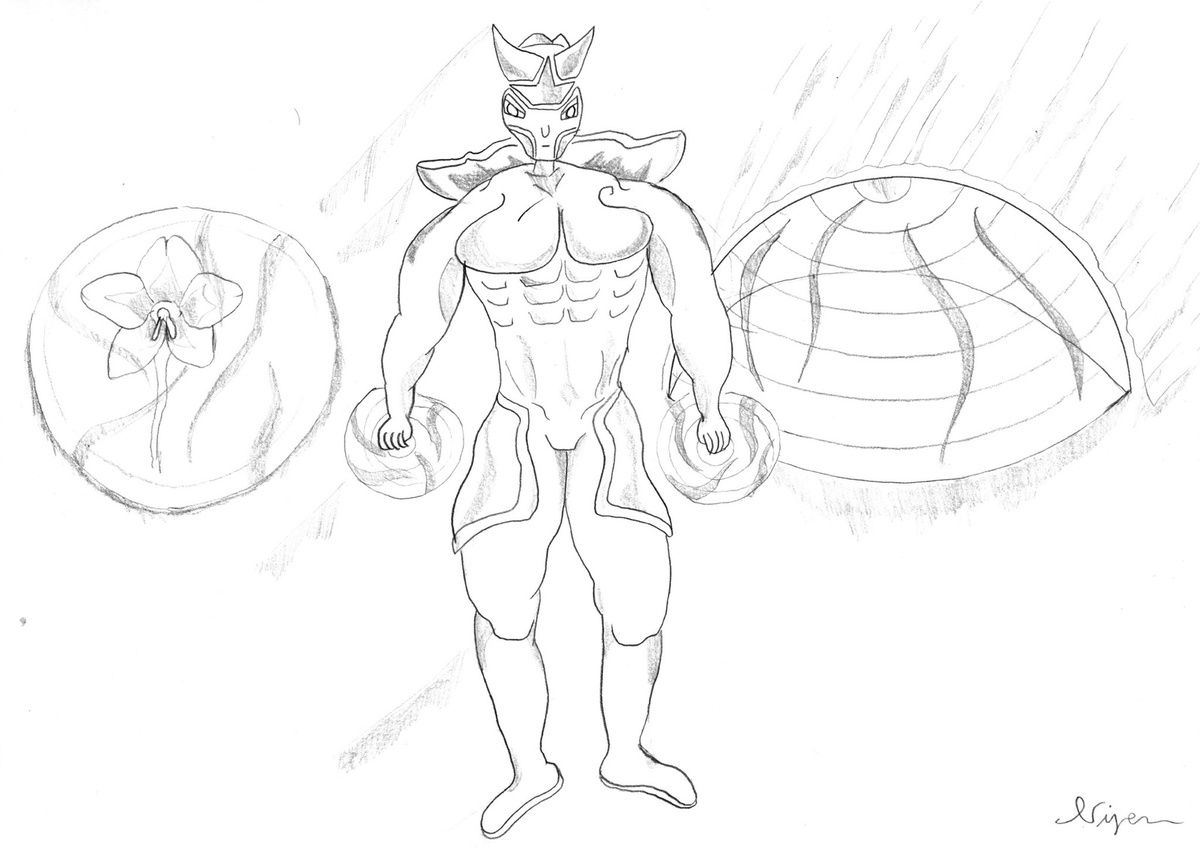 Les textes et les images ne sont pas libres de droit. Merci de contacter l'auteur. Merci de contacter l'auteur. The texts and images are not free of rights. Please contact the author.