26
May
Le supervolcan II / the supervolcano II
La sauvagerie de Rinoféroce a traumatisé de nombreuses personnes. Parmi eux, Plum est bouleversée. La présence de Rinoféroce a changé la donne. Le risque est extrèmement élevé pour tous les potentiels. Les actes de barbarie du désosseur sont violemment condamnés par le comité. Compte tenu du lourd passif du desosseur, le technodefenseur doit redoubler ses efforts pour protéger les potentiels. À ce jour, le destructeur est porté disparu.
La ville technologique se reconstruit progressivement. De nombreux sites de rénovation ont vu le jour. Le temps de la reconstruction est venu pour Technoville comme pour Plum qui essaye de se reconstruire intériorement petit à petit. Les esprits ont été marqué par la violence de la "dévastation". Un prototype de surveillance très spécial a été conçu pour surveiller les potentiels.

Côte à côte, le technodéfenseur et Plum regardent les chantiers de construction à travers les fenêtres - panneaux à capteur de lumière.

Plum, pensive : Le gouffre de l'enfer est toujours présent.

Technodéfenseur : Les scientifiques redoutent des remontées magmatiques dans les prochains jours. Les maîtres d'oeuvre font tout leur possible pour éviter cette catastrophe naturelle.
Plum, perplexe : Des remontées magmatiques ... Comme pour l'éruption d'un volcan.

Technodéfenseur : C'est ce qu'ils essayent de déterminer.

Plum : Toujours aucun signe de vie de Ylo ?

Technodéfenseur : Les recherches continuent encore. Nous recherchons également le désosseur.
The savagery of Rinoferoce has traumatized many people. Among them, Plum is out of her mind. The presence of Rinoferoce has changed everything. The risk is even higher for all the potentials. The barbaric acts of the " desosseur" are severely punished by the comitee. Taking into account his dark past, the technodefenseur has to make more efforts to protect the potentials. From today, the destroyer is missing.
The technological city is rebuilding progressively. A lot of building renovation sites are appearing all over the town. The right moment for reconstruction has come for Technoville. It's also true for Plum who is trying to get better. Will she get back her inner peace ? The violence of the "devastation" has scared the citizens. For her safety, a very special robot guardian prototype has been made especially for the potentials.
Next to each other, the technodefenseur and Plum are watching the building sites through the windows - light panels.
Plum , thoughtful : The hell chasm is still here.
Technodefenseur : The scientists are fearing magmatic ascents the next few days. They are doing everything to avoid the natural disaster.
Plum, perplexed : Some magmatic ascents... Really... Like for a volcano.
Technodefenseur : They are trying to figure out
Plum : There's no sign of life of Ylo yet?
Technodefenseur : The research continues again. We are also looking for the "desosseur".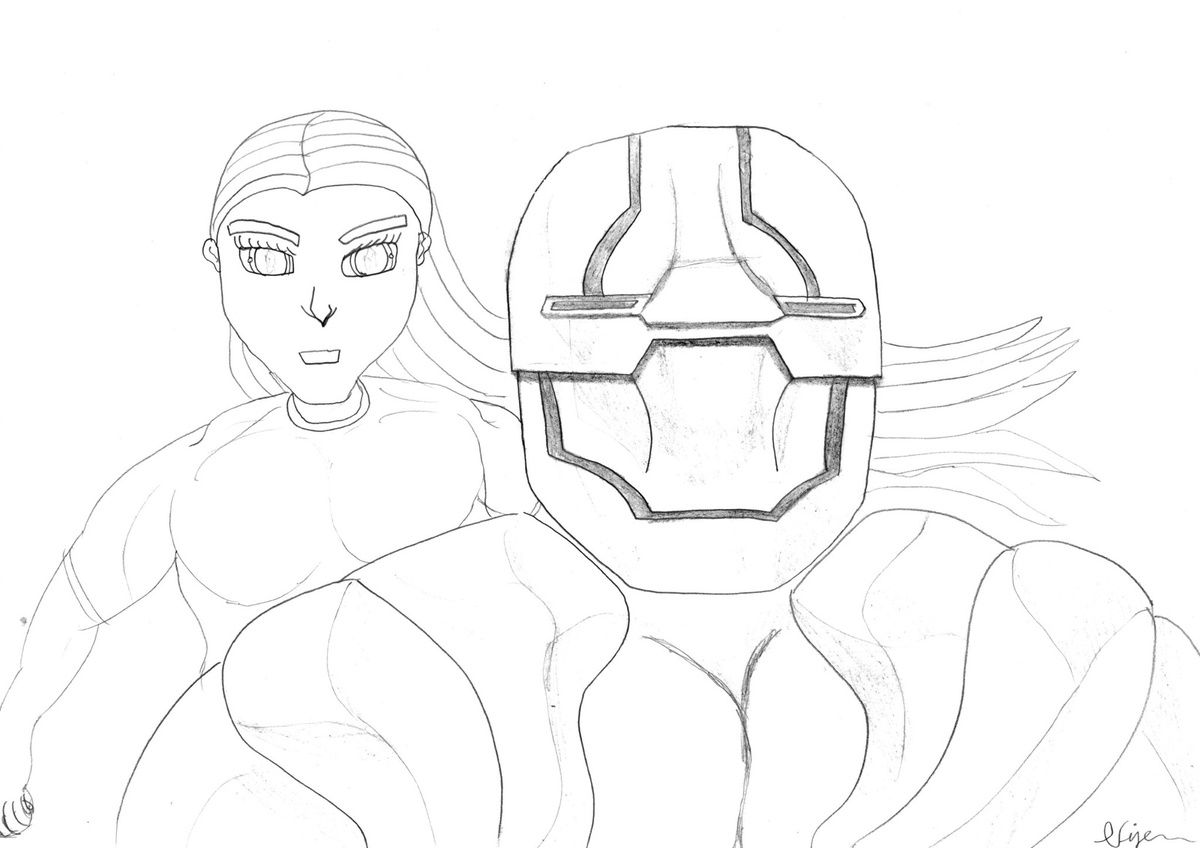 Les textes et les images ne sont pas libres de droits. Merci de me contacter avant une utilisation. The texts and images are not free of rights. Please contact me before using it.
À l'écoute de ce nom, Plum panique. Comme prise de maux de tête, elle est dans un état fiévreux.



Technodéfenseur : Rinoféroce est l'un des plus grands destructeurs du monde de Karma. On est pas à l'abri d'une récidive. Connu pour son passé trouble, il a été banni de Technoville à plusieurs reprises. Il nous faut absolument des éléments pour pouvoir le localiser.

Plum : Il doit mesurer entre 2 mètres et 2 mètres 30. Rien d'en parler, ça me glace le sang. Il y a peut être un signe distinctif. Il sent fort comme un odeur de putréfaction, comme de la chair en décomposition. C'est absolument écoeurant. Avec ces nuages opaques et sombres, j'ai réussi qu'à estimer sa taille mais l'odeur était tellement, tellement forte.

Technodéfenseur : Rinoféroce agit comme une bête sauvage. Nous devons absolument trouver son habitat.

Plum : Je n'ose même pas imaginer ce qu'il a pu faire dans le passé.

Les yeux bleus de Plum rappellent le bleu du ciel. Le retour de la lumière est un soulagement pour le Technodéfenseur et pour les habitants de Technoville. Révélée par la lumière, Plum doit suivre son destin. N'ayant pas encore pris conscience de la mission qui lui est destinée, Plum va bientôt devoir faire ses preuves lors de son initiation. Sera-t-elle à la hauteur pour relever le défi ?
By hearing his name, Plum is panicking. Suddenly, she has a headache that makes her behave feverishly.
Technodefenseur : Rinoferoce is the most dangerous destroyer of the world of Karma. He's waiting to fight back. Known for his criminal past, he has been banished of Technoville several times. We really need to find more informations about his location.
Plum : His height is between 6,5 and 7,5 feet. Just mentionning his name, it's bloodcurdling me. There's something interesting. He stinks. It smells like a putrefaction odor, like an advanced state of decay. It's absolutely disgusting . With the dark and dense clouds, I have just seen approximately how tall he is. But what the hell, the smell was so strong, too strong.
Technodefenseur : Rinoferoce acts like a wild beast. We need to find out where he's living.
Plum : I don't even want to imagine what kind of awful things he has done in the past.
The blue eyes of Plum reminds the blue of the sky. The return of the light is a total relief for the Technodefenseur and the citizens of Technoville. Revealed by the light, Plum should follow her destiny. Hasn't been aware of her own mission yet, Plum will soon have to earn her spurs during the "initiation" time. Will she be ready to take her challenge?